Half Time: Finding the Heart of Inspiration, Collaboration and Community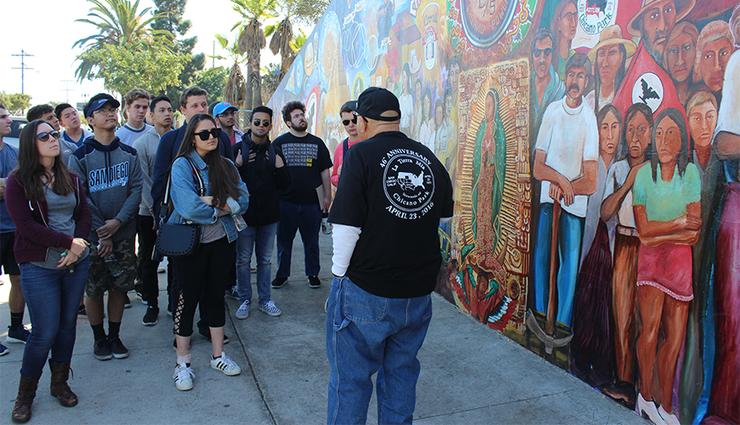 What brings me joy? What am I good at? Who does the world need me to be? Over intersession, 23 University of San Diego sophomores spent three days answering these questions on the Half Time Retreat.
Meant to help students discern their vocational path, Half Time is a collaborative event sponsored by University Ministry, the Mulvaney Center for Community, Awareness and Social Action and the Career Development Center. It invites students to reflect halfway through their college experience in hopes of developing career prospects, emotional intelligence, as well as self- and communal awareness.
Consequently, community engagement is a crucial theme of the retreat. As one student put it, "since USD students receive a first-rate education, it's our call to use that privilege to contribute to our surrounding world in positive, sustainable ways."
As part of the experience, the group spent a day in Barrio Logan and City Heights learning from the university's partners at Via International, Irene's Kitchen, and The Dojo Cafe.
"I loved going out to these areas!" said Sean Agbayani. "Jumping right into places like Chicano Park, Via International's headquarters, and The Dojo helped me understand the real needs of the communities just in USD's backyard."
Hearing the varied experiences of advocates like Rigo, Elisa, Irene, Kenton, and Carlos helped students conceptualize how they might manifest a stronger spirit of outreach and community in their own lives.
"Half Time showed me opportunities I didn't know existed," said Nicholas Cohn. "It really gave me a chance to reflect on who I want to be and remember the person I've always wanted to be."
Added Sophia Khan, "Half Time was a wake-up call, a space of reflection, a refreshing reminder of the all the good in the world. It sparked a genuine movement of betterment within myself. It was everything that gives the term 'inspiration' its definition."
Whether it was talking to Carlos about helping others live out their dreams, listening to Kenton's powerful poetry, or speaking with USD alumni about their career journeys, the students encountered many individuals brimming with inspiration and hope.
Half Time reminded students to acknowledge everything they have to be grateful for, and how to express their appreciation by caring for their community, peers, family, and themselves.
"Before the retreat, I would sometimes take things for granted, and forget how lucky I am to live the life that I am living. Half Time changed that," said Sophia.
At the end of the retreat, students left inspired and ready to chase their future, wherever it might take them.
— Reflection by Sean Agbayani, Nick Cohn, and Sophia Khan
Photos courtesy of University Ministry