MCCASA: USD's Center of Community Engagement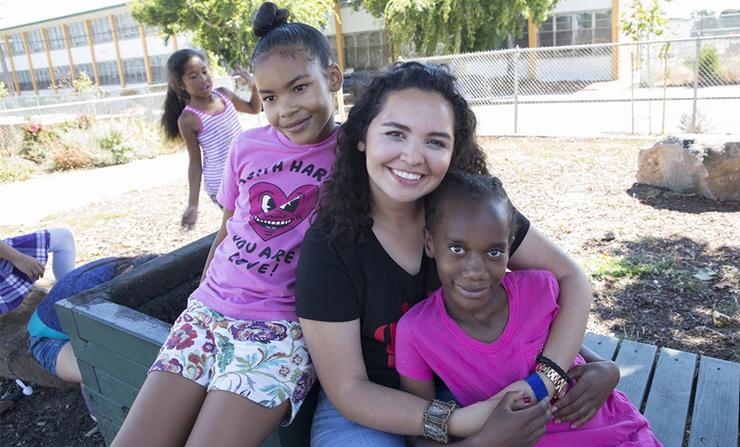 Jocelyne Olguin, was a sophomore student when she realized that her passion for community engagement was enhanced by a connection made possible through the University of San Diego's Karen and Tom Mulvaney Center for Community, Awareness and Social Action (MCCASA).
Working alongside a fellow USD student at an immigrant youth shelter that the Mulvaney Center partnered with, Olguin sought to connect with the children. It wasn't as difficult as she thought it might be. "The trust was there. The doors were open and they gave us the room. The topics are hard to talk about, but the trust they had with us was because of the Mulvaney Center."
Olguin, who later served as a student director within the Mulvaney Center, served as a MICAH Fellow and graduated from USD in May 2017, continued to learn how deep the connection between the center and the local community truly is.
"The Mulvaney Center works really hard to make sure the partnerships it has are beneficial for both sides," she says. "We're not there to just paint a house or whatever it may be. We're coming to learn from the community because the community has so much to teach us. The mutual learning is the difference between this and any other service activity I've done."
A Presence On and Off-Campus
It doesn't seem much of a stretch to say that the Mulvaney Center could be a school of its own at USD. The center is so well connected to a majority of the university's 8,000-plus student population and also to faculty. Annually, the center's community engagement component occurs in 150 classes with more than 130 community partners.
The center works in communities around the globe such as New Orleans, Northern California, Jamaica, Guatemala and Tijuana, but a significant amount of time is spent right where USD is located — in Linda Vista, where some 24 cultures and 35 different languages are spoken in a four-mile area. Undergraduate and graduate students are involved in Linda Vista where students lead community efforts.
Academically, the center engages the community through students who are in classes for business (microeconomics, project management and marketing), Communication Studies, education, leadership, engineering, foreign languages, Ethnic Studies, math, history, political science, psychology, sociology, Theology and Religious Studies and theatre.
"From what started as a small operation, there's now over 85 percent of the campus community that is involved in some shape or form of community service," says Mulvaney Center Director Chris Nayve, USD's associate vice president for community engagement and anchor initiatives. "Issues range from education, poverty, homelessness, economic development, housing and food security. The breadth of our scope has expanded and our partnerships have deepened over the years."
Growing as a Center of Community Engagement
Founded in 1986 when inaugural director Judy Rauner opened a volunteer services office, USD's dedicated space for community engagement has grown considerably and has been a widely-respected center for 30 years. It has been a model center through its education programs, dedicated directors, staff, alumni, students and community partners who, collectively, are committed to community relationship building and a desire to do good.
"We're now the Mulvaney Center, but it too has gone through a transformation — from notions of volunteerism to community service-learning and now community engagement," says Judith Liu, a sociology professor at USD since 1982 and a faculty liaison for the Mulvaney Center. "From the early days of the Office of Volunteer Services to the Mulvaney Center, it really shows that individuals with passion and care and desire for the social good can come together. For me, it's like getting a constant shot in the arm when I see people who are committed to doing things. It is a community of individuals who don't just sit around talking about things. They take action."
A Working Relationship
A consistent and considerate relationship is how the center prides itself. Class community engagement is no different. The center ensures that all involved understand that when USD enters the community, it does so with respect, a desire to learn from the community members, and does not bring a savior-type mindset.
"There is a lot of wisdom out in the community. You don't have to have specific letters after your name to say, 'I can impart wisdom to you or teach you something about life,'" says John Loggins, the Mulvaney Center's director of engaged learning.
There are many examples of the center's strong partnerships, but one in particular is its multi-faceted relationship with Linda Vista's Montgomery Middle School. There are programs in which Liu and Emalyn Leppard, a Montgomery teacher and USD alumna, co-teach with USD students and Montgomery students working together. The middle school's community garden has had USD faculty, staff and students lend their time and support to the project. There was a recent faculty research project that USD professors from the School of Business, School of Law, Hahn School of Nursing and College of Arts and Sciences did regarding exercise and nutrition habits of middle school children with input from Montgomery.
One other long-term project has been USD students and USD faculty conducting an annual health fair at Montgomery for 17 years. A collaborative project between USD's Department of Psychological Sciences, Mulvaney Center, Linda Vista Health Community and Montgomery, the project was created by Psychology Professor Sandra Sgoutas-Emch, PhD, in her Health Psychology class.
"USD faculty and Montgomery science teachers work together to design the curriculum and assessments to help meet the needs of the community and the learning outcomes for both USD and Montgomery students," Sgoutas-Emch said. "Applying models and content from the course, USD students apply the knowledge in a real-world project that any community health practitioner is familiar with in their profession."
USD and Montgomery work together during the semester to produce an interactive booth to educate other students at Montgomery about health issues for their age group. "Our students learn how to apply the models of community health promotion and Montgomery students become peer educators to their fellow classmates about issues that impact them," says Sgoutas-Emch. She adds that the 2018 health fair is slated for May 10 from 1-3 p.m. at the Montgomery Auditorium.
While the health fair has its tradition, the center also appreciates when newer faculty can assist in development of the pathway for students to engage.
Loggins praises Diana Chen and Odesma Dalrymple, two newer Shiley-Marcos School of Engineering professors who've worked with the Mulvaney Center to install a community engagement component in their classes, thus helping "to push the boundaries of what an engineer can be," Loggins says.
It might be a health fair, maybe it is tutoring at-risk children, spending time with special needs children or an immersion service trip to Tijuana that enables students to speak Spanish and sparks something in them. Whatever it is, Olguin is confident students can find their path through the Mulvaney Center.
"Come explore all of the options," she says. "My outlet was immigration and education, but I think the Mulvaney Center has something for any passion that you find yourself guided toward. If you haven't found it yet, the center is a good place to start looking. You might be the person to start a program and that's good because it's a place that's welcoming to new ideas and welcoming to everyone."
— Ryan T. Blystone