Kroc IPJ, Diocese, SDOP Partner to Build Trust in Community-Police Relations
Kroc IPJ, Diocese, SDOP Partner to Build Trust in Community-Police Relations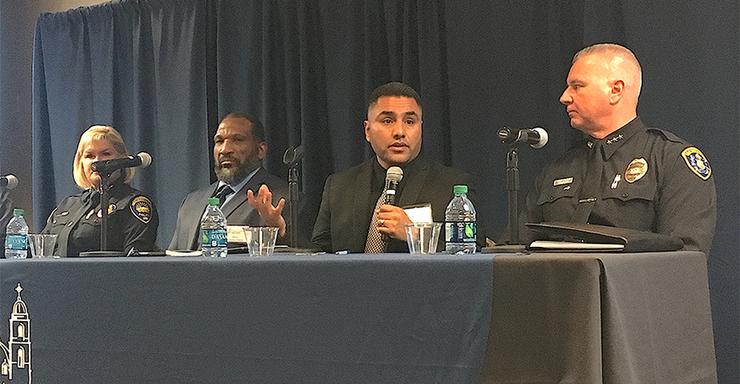 Trust. With it, there is confidence, dependability and a positive sense of faith, hope and reliance to make a situation, a relationship or a community thrive. Without trust, life can quickly unravel, become unsettling, worrisome and a concern so great that it threatens to make a situation unrepairable and, within a community, the results can even be fatal.
Case in point, is a rise in the division between communities locally, statewide and nationally, in relationship with law enforcement. A lack of trust has turned more violent due to high-profile and every-day encounters that have resulted in an overall breakdown in communication between police and the community. Trust, on both sides, needs to be rebuilt. It requires action.
"A healthy relationship between police and the public is essential for strong, resilient, peaceful communities," state the first words in the introduction of The Building Trust Partnership Handbook a new resource authored by Daniel Orth, a program officer in the Kroc Institute for Peace and Justice at the University of San Diego.
On Jan. 31, in response to a call to action by Most Reverend Bishop of San Diego Robert McElroy and other officials, the Kroc IPJ hosted the launch of "Building Trust: A Partnership of Clergy, Communities, and Police." The Building Trust Partnership is a collaboration between the Kroc IPJ, the San Diego Organizing Project and the Roman Catholic Diocese of San Diego. It is designed to help provide a bridge between police, clergy and communities perspectives while helping to establish trust, support and cooperation.
"For the better part of 2017, I had the pleasure of traveling around San Diego County to many different communities to have more than 80 different conversations with religious leaders, community leaders and law enforcement who were committed to thinking and acting differently, who were committed to improving trust and relationships between police and communities," said Orth, of the process that ultimately resulted in the handbook. Furthermore, the handbook is an accompaniment to a Building Trust website, www.buildtrustsd.org
The handbook and website provide useful information and tools. Religious leaders endeavoring to build trusting relationships between police and communities can get access to the latest information, resources and support. There's even a "10 actions to get started" list.
Wednesday's event drew religious and community leaders and law enforcement officers, administrators and more to the USD campus. A panel conversation on police-community relations and the role of religious leaders was moderated by Kroc IPJ Executive Director Andrew Blum. The panel consisted of: Bishop Cornelius Bowser, Charity Apostolic Church and the Community Assistance Support Team; Todd Jarvis, Executive Assistant Chief of the San Diego Police Department; Roxana Kennedy, Chief of the Chula Vista Police Department, and Pastor Jesus Sandoval, New Harvest Christian Fellowship and the Community Wrap Initiative.
The consensus was a desire to work together, understand each other more and take steps toward building trust to strengthen a relationship that can thrive.
"We're all in this together and we can all make a difference if we're willing to try," Chief Kennedy said.
— Ryan T. Blystone
To learn more about the project or to get involved please contact Kroc IPJ Program Officer Daniel Orth at dorth@sandiego.edu