Student Team Places 2nd at Investment Banking Competition in Toronto
Student Team Places 2nd at Investment Banking Competition in Toronto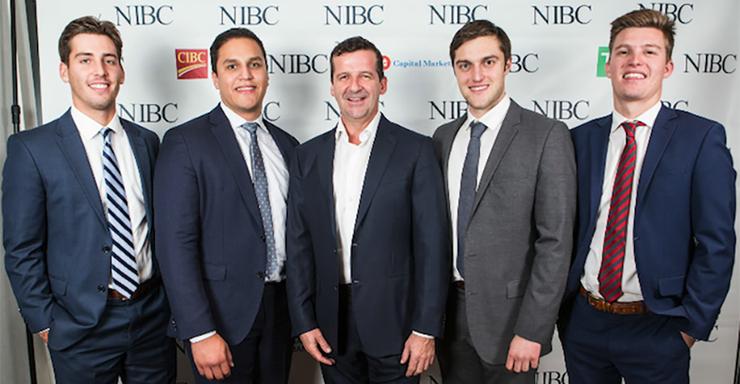 A University of San Diego School of Business team of four undergraduate finance placed second in a recent prestigious investment banking global competition. The USD team consisted of Alex Hernandez, Peter Twomey, Sean Dedmond, and Barrett Thornton, with Hernandez as the team leader.
In late November 2017, students from around the world gathered in Toronto, Canada to compete in the Ninth Annual National Investment Banking Competition. The NIBC is the largest investment banking competition in the world for business students. It is an opportunity for students to test their financial analysis skills on an international stage and interact with recruiters from top Investment Banks and Private Equity firms.
The initial round of the competition received more than 330 submissions from student teams from around the world. The NIBC organizers selected 32 undergraduate and 32 graduate teams to travel to Toronto to participate in the final rounds of the competition.
This year's business case in the competition was a proposed acquisition of AMC by Netflix. Competing teams had only six hours to prepare detailed financial valuation models, conduct extensive industry research, devise a strategic recommendation for the transaction and then organize it into a visually appealing pitch deck. The teams had to present their case analysis in the boardrooms of top-tier banks all around the city. Each presentation was closely scrutinized by investment banking professionals, ensuring that the financial analysis met their very high standards.
Besting teams from top-ranked business programs, USD's team was undefeated in the quarterfinals and semifinals and advanced to the finals. The team was one of two in the final round for undergraduate teams, and had to present their M&A analysis in front of 500-plus competition participants and industry leaders at the gala dinner.
"Investment Banking is an extremely difficult industry to break into and the team's performance in the competition is a stepping stone. It has helped put our school on the radar of top-tier investment banks," Hernandez said.
About the Team members
All members of the team are finance majors in the School of Business at USD. Hernandez worked at JPMorgan in New York this past summer and has accepted an Investment Banking Analyst position at Cowen with its industrials group in New York. Twomey will intern at Moelis & Co in their technology Mergers and Acquisitions group in San Francisco. Thornton is currently a senior associate at UGF, which is the largest student-run private equity firm in the country and has accepted a position as an analyst at D.A. Davidson in their generalist program in Orange County. Dedmond will join Bank of America Merrill Lynch in their Technology Coverage group in Palo Alto.
— Renata Berto