Storytelling Her Way to Impact: A Changemaker's Story of Being her Own Boss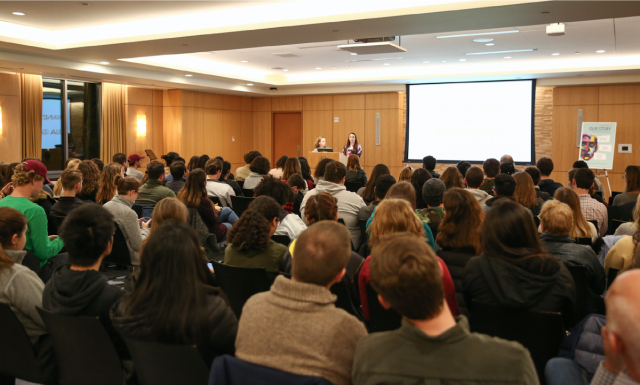 In the world of Entrepreneurship, we hear a lot about the power of Story. A pitch is generally only as good as the compelling and authentic story it tells. We are drawn to support those whose story resonates with us, and therefore, we need to thoughtfully articulate the why and the how of the change we want to make in the world when we tell our own story.
One such moving and powerful story emerged from our Global Social Innovation Challenge. It is a story of the power of story on university campuses across the country, from San Diego, California to Washington, DC.
A creation of Social Innovation Challenge 2017 award winner Charlotte Vitak, the story of My Story is one of community building, entrepreneurship and the journey of how what started as a college project turned into a real business. My Story is a community building program that delivers a direct and tangible experience with empathy and diversity. Through the art of storytelling and story-listening, My Story breaks down silos and brings students, professors and community members together to listen to each other's perspectives and experiences in a civil and engaging way so that each and every person feels valued and included. My Story as a concept started three years ago. Five students from different clubs at the University of San Diego shared their stories with 65 event attendees. Over three years, My Story has grown tremendously, and has worked several times with USD, Ashoka U Exchange, Bayside Community Center, and most recently, Fordham University with an audience of 115 students.
We'll hear from social entrepreneur, Charlotte Vitak, who graduated from USD in May 2017 and six months later is a full-time social entrepreneur...
What is My Story and how did it get started?
Charlotte: My Story is a community building program that uses storytelling to deliver people's experiences in order to create community building. The way it started is that I was a sophomore at the University of San Diego and I was attending a bunch of clubs and I started noticing that many clubs were facing the same issues and nobody was listening to each other to overcome them. Then I thought that we could start telling our own personal stories. From there, it grew. Professors got interested in the project and it grew even more. I learned that people loved storytelling.
Some people might say that you are being your own boss while making social impact, what would you say about this?
Charlotte: I would say yes. My Story has given me a lot of stability. I can work from where I am which is great. I have seen myself growing because nobody is my boss and I have had to discipline myself to achieve my goals. I am passionate about what I do. People are trying to solve global challenges which is admirable, but I focus more on the sense of community, taking a step back, and working on something more foundational and bringing things back to the roots. People connect in this way. I have spent my last six months overcoming the challenges that I have faced due to working by myself. I am learning so much about how to run a business which has been so challenging but exciting at the same time.
Can you tell me more about your experience at the Changemaker Hub, Ashoka U Exchange and the Social Innovation Challenge?
Charlotte: Social justice has been always close to my heart. I applied to University of San Diego because it is a Changemaker school. I think it is important to make the world a better place through education. When I got to USD, I joined the Changemaker Student Committee and they took me right away to the Ashoka U Exchange which was like a dream for me. Here I thought, "Oh my god! There is a whole industry of people who believe in social innovation and social change." From there, I was able to connect with so many amazing people and I got an internship with Ashoka. That pushed me to get involved in the Social Innovation Challenge (SIC). The SIC gave me some business tools. I had no background in this field so these were basic tools that became really important to help me build my business plan. The Social Innovation Challenge put me on track in terms of the building blocks required to make My Story work.
Would you say that the Social Innovation Challenge gave value to your resume?
Charlotte: Oh yeah! A hundred percent. Actually, it is my resume! It shows a real sense of initiative and independence as I add value. Also, since My Story works with a topic people are interested in, interviewers just want to learn more!
What were the key benefits of participating in the Social Innovation Challenge?
Charlotte: First of all, the people you meet. Second of all, it is one of the few opportunities you have in college to get a real hands-on experience in a productive way. The Social Innovation Challenge is very self-lead reality more than any other experience you will have in school. You will be using your skills to produce change. It pushed me to use all the knowledge that I got in school in a real-world setting.
Have you found a community of social innovators post-graduation? Where? What's it like?
Charlotte: I have found innovators in Washington D.C. where I'm living now, and this community is so valuable. But my bigger community of innovators is in San Diego. When you find that kind of community, you learn that social innovators are very social and connected. I know I will find in D.C. a community like the one in San Diego, eventually.
Have you made any pivots? Learned any hard lessons? Can you provide an example of when you have failed forward?
Charlotte: Definitely! Finding new clients and the transition of My Story from being a student organization to becoming a professional business, I have made so many mistakes; maybe even one per day! But I try my best to grow. I make sure to come home every day and ask myself "what could you have done differently?" and learn from that. I learn a lot on my own but also through my mentorship network. It is a constant string of learning.
Do you have any advice for students competing this year in the Social Innovation Challenge?
Charlotte: Yes. My first advice would be: Just do it, apply. There are so many opportunities to grow and even if you don't get through to the next round, the connections that you will make are so valuable and interesting. My second point of advice is: commit. After you apply you need to commit and use all the resources. The Social Innovation Challenge and the Center for Peace and Commerce are so resource driven and you will have all these amazing resources and connections before you graduate!
For more information about My Story visit MyStoryCommunity.com or follow them on Facebook and Instagram @mystorycommunity.

More Information

What is My Story?

My Story is a community building program that delivers a direct and tangible experience with empathy and diversity. Through the art of storytelling and story-listening, My Story breaks down silos and brings students, professors, and community members together to listen to each other's perspectives and experiences in a civil and engaging way so that each and every person feels valued and included. My Story produces a story experience in three parts. First, they assess the university and identify different groups or areas that are particularly siloed. Then, from these groups, they select five individuals to tell their real-life stories. Through the My Story Story Mentoring curriculum, they train the storytellers to identity and craft their stories. Finally, My Story hosts an interactive on-campus event where community members come together and build community through listening to the stories of their peers.

What is the Global Social Innovation Challenge (Global SIC)?

The Global SIC is a social venture pitch competition that recognizes, resources, and rewards student-led social ventures focused on sustainable change. Participants are asked to develop a nuanced understanding of a social or environmental issue of their choice and identify gaps in the existing approaches. Then, they identify a potential solution that can address the gaps, has measurable positive impact and can be financially sustainable before pitching this idea to the world! Learn more at http://www.sandiego.edu/global-innovation