Cardinal Turkson Makes Strong Plea for Nonviolence and Just Peace
Cardinal Turkson Makes Strong Plea for Nonviolence and Just Peace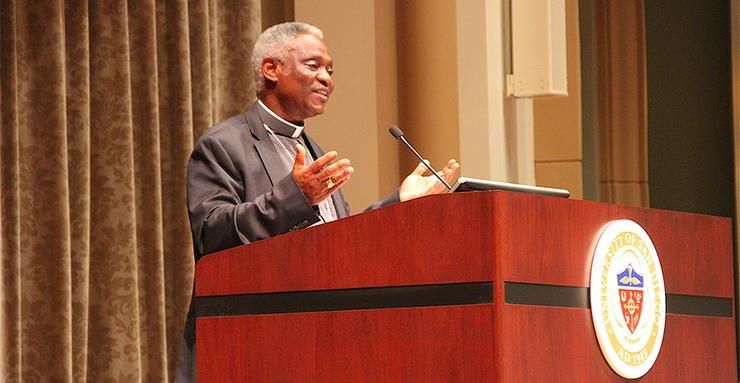 The University of San Diego's Frances G. Harpst Center for Catholic Thought and Culture hosted a weekend conference, "The Catholic Church Moves Towards Nonviolence? Just Peace/Just War in Dialogue," that brought together peace activists, theorists and military educators for the purpose of dialogue, listening and to gain a better understanding of each other's viewpoints.
Highlighting the weekend was the participation of Ghanaian Cardinal Peter Turkson, archbishop emeritus of the Cape Coast and current prefect of the Vatican's Dicastery for the Promotion of Integral Human Development, and his Oct. 7 talk, "Christian Nonviolence and Just Peace."
Bishop Robert W. McElroy, who introduced Turkson, called him "a wonderful emissary for the call of nonviolence." He praised Turkson as a student of scripture, as a pastor who built bridges while reaching out to diverse communities, and his leadership roles and involvement to assist Pope John Paul II, Pope Benedict and Pope Francis.
Turkson acknowledged the importance of the USD conference's dialogue component, but his message took into account the serious and real aspects of the world and he emphasized, from both a past, present and future perspective, a plea for all to follow a path of nonviolence and peace.
"We live in a moment in human history when fear about potential global catastrophe has intensified to a point rarely experienced before," Turkson said. "Our conversation is decisive for what it can bring and needs to bring to this experience. The decisions made by the global human family about peace and war in the coming months and years, particularly those with potential political responsibility, will have profound advances for the future of humanity and indeed, fate of our planet."
Turkson spoke of war and violence failing to conclusively resolve conflict anywhere in the world and the powerful example of Jesus setting a nonviolent way of life and using it as an effective way to promote peace and common good.
He told the audience in the Kroc Institute for Peace and Justice Theatre that violence is never the answer. Turkson quoted Martin Luther King Jr. words from his "I've Been to the Mountaintop" speech, the day before he was assassinated: "The choice we face is no longer violence or nonviolence; the choice we face is nonviolence or nonexistence."
"Today, sadly, we are still at this crossroad," Turkson said of current day conflict and behavior. "We're tempted to respond to violence with violence. By attempting to do so, we shall never achieve what peacemakers actually look for. But to say we must always use a nonviolent response to conflict is easy to say, difficult to put into action. The temptation to use violence is strong in a world of fear, when people are desperate for safety and for security. That is the nature of our world now. Terrorist attacks the last few years have dramatically increased peoples' fear of insecurity. When fear gets into the driver's seat, we cannot promote peace. However, if we want peace, as Pope Francis clearly puts it, we must encounter the logical fear with the ethic of responsibility. We must foster a climate of trust and sincere dialogue, meaning a nonviolent response to our fears and our quest for security."
Turkson pointed out more examples of the actions that can lead to violence in many forms, such as: the actions of nations exchanging threats against each other, nations who are desperate to invest more in weaponry than focusing on better health, creating good jobs and care for the environment, and a temptation for conflict that arises when people are filled with an inordinate desire to possess and have more.
"To Pope John Paul the Second, violence is evil, it's unacceptable as a solution to problems. Violence destroys what it claims to defend — that is the dignity, the life and the freedom of people in nations," he said.
To counter violence, Turkson continued, nonviolence through what Christ taught is a pathway to peace. "To stop the spiral of violence, we cannot be naïve. We must, first and foremost face it. As Pope Francis teaches us, to do so peacefully, yet effectively, we can learn from Jesus. He can be the inspiration. The way Jesus teaches us to face violence is through a nonviolent attitude. He himself lived in violent times, but he never resorted to violence. He highlighted the power of care and mercy over domination and violence. He blessed the peacemakers and he called on us to love everyone, even our enemies."
Turkson's passion was sincere and his message of nonviolence throughout his talk was well received. His stance on nonviolence and peace continues to serve as a catalyst for peace activists and theorists to push for Pope Francis to consider an encyclical on the topic, which would follow his previous encyclical, Laudato Si, that focused on care for the environment.
"I'm very moved by Cardinal Turkson's clear rejection of violence, laying out the importance of Christian nonviolence that's rooted in the interconnection of all beings," said one of the USD conference's presenters, Ken Butigan, a 1976 USD alumnus. Butigan, who is a lecturer and affiliate faculty member at DePaul University and works with the nonprofit organization, Pace e Bene Nonviolence Service, added, "It is a moment of transformation to have someone at the highest levels of the Church calling us to live a nonviolent life."
In a question-and-answer session following Turkson's talk, his answer to a student's inquiry on what it means to fully practice Christian nonviolence while at a Catholic university such as USD, was equally motivating.
Turkson's response centered on an individual's approach. "If the source of the conflict is us, we need to train people to discover that. If the conflict is us and another person, then we need to see how we can reconcile and have that take place. The first instance of violence is within the heart of each one of us. Pope Francis, in (his encyclical) Laudato Si, said the violence within our heart is what we project on, in the way that we treat nature. If we treat nature abusively, it is because of the conflict within us. So that means if the first instance of nonviolence is what's in us, that makes us instrumental to nonviolence."
— Ryan T. Blystone