USD Professor Selected CERF Niering Outstanding Educator Award Winner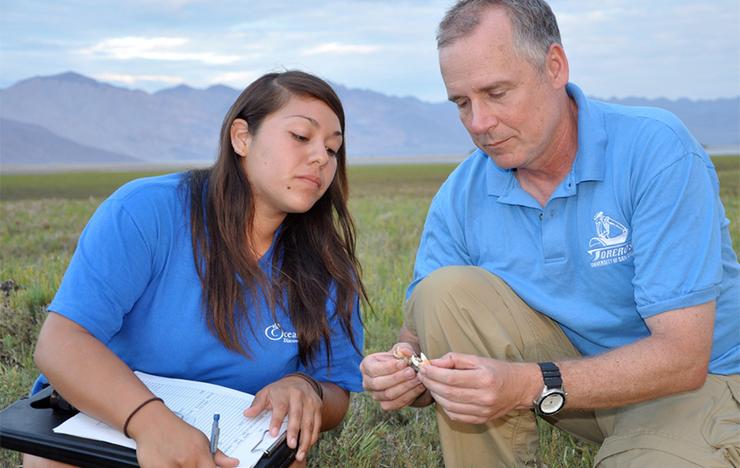 Environmental and Ocean Sciences Associate Professor Drew Talley has long been fascinated by science but, seemingly, not only for himself. He's mostly seen it, developed an interest and a love for it through others' discoveries, all the while enjoying how they react and understand it. Talley recalls that as a young boy he would watch and learn from famed oceanographer Jacques Cousteau and others.
"The goal of being a scientist is one I've had since I was a little kid, when images and stories of marine biologists really resonated with me," he said.
Talley's interest and passion for marine science not only led him toward a career path that has included stops in Northern California and South Florida before returning to San Diego, but it has included multiple opportunities to share it and spark the interest of a diverse group of students about the wonders of science that thrill him most.
Outstanding Educator Award
Even being recently selected as the recipient of this year's Coastal and Estuarine Research Federation (CERF) William Niering Outstanding Educator Award, Talley is intent on thanking others for their support and opportunities he's had above acknowledging his dedication and achievements.
"It's nice, surprising and flattering, but it's more a testament to the great people I'm surrounded by," said Talley. "If not for the support of the (USD Environmental and Ocean Sciences) department, the dean's office, Shara (Fisler, executive director/founder, Ocean Discovery Institute) and others … I don't view this as me being recognized, but what I'm passionate about has risen to the level that people are noticing it."
The award, named for Niering, a late Connecticut College botany professor, goes to "an individual who has played a particularly important role in education at any level — from primary school to the graduate level, inside or out of the classroom, or in the education of the general public through outreach activities."
The award doesn't single out Talley's work at USD, though it is plentiful, but a full appreciation for his research, community commitments and work with elementary, middle, high school, undergrad and graduate students.
Talley's CERF nomination contained supportive letters from USD colleagues, past students and Ocean Discovery Institute, a local nonprofit that provides Science, Technology, Engineering, Math (STEM) education for the most socio-economically disadvantaged youth in the San Diego area. Talley, who has been with ODI for 14 years, serves as its science director.
Mentors and Mentoring Others
"I've had amazing mentors who've taught me the skills and values that I try and bring with me: Paul Dayton at SIO (Scripps Institution of Oceanography), my wonderful and successful wife, Theresa; Shara, Travis Kemnitz (USD undergrad alumnus) and Lindsay Goodwin (USD graduate alumna) from ODI and numerous others," he said.
Talley's impact has been felt, too. In recognizing him for the award, CERF stated: "A theme that ran across all of the (nomination) letters depicted a truly exceptional educator/mentor who has changed countless lives. While student populations in this socio-economic position traditionally hold a one in ten chance of graduating college, those associated with Dr. Talley boast an eight in ten chance for this metric, setting them up for long-term success in life. Additionally, seven of ten mentees have entered careers in STEM fields."
A post on the Ocean Discovery Institute Facebook page upon learning of Talley's CERF award congratulated him and validated the work he does best: "Dr. Drew Talley has mentored our students for over 10 years and continues to empower the next generation of science and conservation leaders."
Interestingly, Talley's wife, Theresa, a California Sea Grant Coastal Specialist at Scripps Institution of Oceanography, attended Connecticut College as an undergrad and took classes from Niering. "It's cool to get an award that's in his name," Drew said. "He was a real hero for Theresa."
Drew Talley's work at USD includes participation as a faculty member who helps guide underrepresented undergraduate students in the McNair Scholars program; running a Society for Advancing Chicanos/Hispanics and Native Americans in Science (SACNAS) chapter; his university lab is open to all students, including military-connected students, incoming freshmen, transfer students and those who've been supported by a grant National Science Foundation as an Ocean Scholar. Talley's commitment locally includes being on multiple technical advisory boards for regional coastal restoration projects and voluntarily serving on two boards for the San Diego Natural History Museum.
Discovering the Possibilities
Immersing himself in science has been a lifelong pursuit, but one of Talley's top assets is a dedication to make science education an equal field of opportunity. He noted that his childhood passion to be a marine scientist was a career choice he could envision, but wishes it could be a norm for anyone wanting to pursue it.
"As a white, middle-class male, it always struck me as a very attainable choice, which I suppose is an example of the most banal kind of white privilege," Talley said. "I would love to have everyone see that as a possibility!"
Inclusion and diversity in science and science education is a challenge he addresses and works to be part of the solution.
"It is the inequality of opportunity in science. Fewer kids from underrepresented groups are empowered to believe they can be scientists — it is not even on their radar. And yet we know a culturally diverse STEM workforce is more effective than a homogenous one. Initiatives that move STEM careers onto these kids' radars, and then provide them opportunities to learn and practice thinking scientifically, are the things that will improve not just science education, but science and our communities more broadly."
Talley received his bachelor of science in biology at San Diego State and a PhD in Biological Oceanography at Scripps Institution of Oceanography (at UC San Diego). He believes science and education produce a powerful connection for his approach. "They feed each other. It's not a trade-off between teaching and science — my science informs my teaching and my teaching invigorates my science."
While Talley's research interests focus on the influence of habitat connectivity on ecosystems, coastal community structure and function, he truly cherishes "every day" moments as an educator.
"There are a lot of experiences that make me so happy: During a lecture seeing a student's face suddenly light up as they grasp a difficult scientific topic; the joyous squeals of a fourth-grader seeing a hermit crab face-to-face for the first time; or the excitement so many students experience when they see not just the beauty of a wetland, desert or beach, but the hidden elegance of the processes that shape the organisms and environment; and seeing them learn that science is not dry and boring, but provides access to a layer of the world they have been immersed in but have not seen before."
— Ryan T. Blystone