USD School of Law Alumni Named Daily Transcript's 2017 Top 40 Under 40
USD School of Law Alumni Named Daily Transcript's 2017 Top 40 Under 40
USD School of Law Alumni Named Daily Transcript's 2017 Top 40 Under 40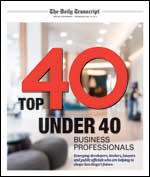 San Diego (May 9, 2017) - The San Diego Daily Transcript announced its annual "Top 40 Under 40" list, honoring emerging developers, brokers, lawyers, and public officials who are helping to shape San Diego's future. Included in the list are University of San Diego (USD) School of Law alumni Jamie Altman Buggy, '11 (JD), Ashley Gosal, '15 (JD), and Andrea N. Myers, '08 (JD).
Buggy is an associate attorney at Crosbie Gliner Schiffman & Swanson LLP. She represents business owners and individuals in all areas of real estate disputes, including breach of contract, fraud, insurance coverage, partnership disputes, and breach of fiduciary duty. She specializes in complex business disputes, and thrives when the situation at hand lacks precedent, requiring an out-of-the-box approach and entrepreneurial attitude. Her experience also includes serving both creditors and debtors in the bankruptcy process, guiding them through the complicated statutory framework of bankruptcy to a favorable disposition.
Gosal is the in-house legal counsel for real estate developer Bosa Development. While in law school she served as a law clerk for Higgs Fletcher & Mack LLP. Gosal is very active in the community and serves on the executive committee of the Downtown San Diego Partnership board, as co-chair of the Urban Land Institute's Women's Leadership Initiative, on the Monarch School board of directors, as a member of Commercial Real Estate Women San Diego and as a member of two Building Industry Association San Diego committees.
Myers is a shareholder at Seltzer Caplan McMahon Vitek LLC. She has experience litigating matters in state and federal courts on a wide variety of issues at both the trial and appellate levels. Her practice emphasizes complex business and commercial litigation, with particular concentration on real property, professional liability, and employment disputes.
About the University of San Diego School of Law
The University of San Diego (USD) School of Law is recognized for the excellence of its faculty, depth of its curriculum, and strength of its clinical programs. Each year, USD educates approximately 900 Juris Doctor and graduate law students from throughout the United States and around the world. The law school is best known for its offerings in the areas of business and corporate law, constitutional law, intellectual property, international and comparative law, public interest and taxation.
USD School of Law is one of the 81 law schools elected to the Order of the Coif, a national honor society for law school graduates. The law school's faculty is a strong group of outstanding scholars and teachers with national and international reputations and currently ranks 23rd worldwide in all-time faculty downloads on the Social Sciences Research Network (SSRN). The school is accredited by the American Bar Association and is a member of the Association of American Law Schools. Founded in 1954, the law school is part of the University of San Diego, a private, nonprofit, independent, Roman Catholic university chartered in 1949.