Community Prepares for USD Relay for Life, April 7-8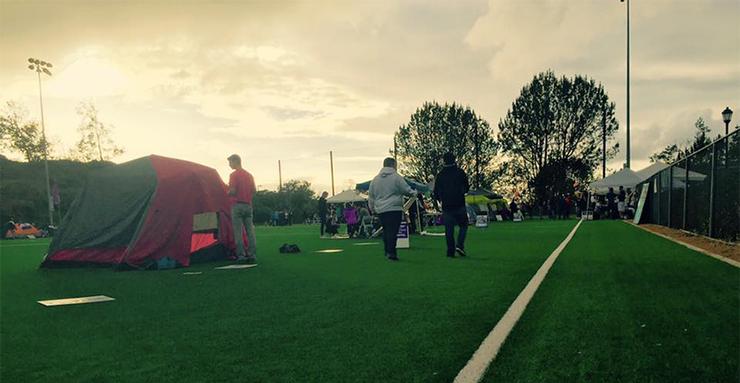 The University of San Diego community is preparing for its ninth annual Relay for Life event on April 7-8. The opponent remains cancer. All forms of this disease affects thousands of lives, causes grief among families, best friends, cherished relatives and work colleagues. It does not discriminate, either. Cancer affects all men, women, children, infants and pets.
But just as cancer never quits trying to wreak havoc on our bodies, neither do does the fight to find a cure. Year after year, day after day, people all over the world continue to search, continue to do research, continue to donate and keep fundraising in search of answers.
Starting at 3 p.m. Friday and going straight through to Saturday's 10 a.m. closing ceremony, USD's Valley Field will be the campus community's home base in the fight against cancer. It's a solidarity space, a place to celebrate survivors and remember loved ones we'll never forget and a determined community that wants to see an end to cancer's wrath.
In the past eight years, the USD Relay for Life event has raised more than $200,000 to support cancer research. More than 2,500 students have been in attendance during that time. Going into this year's Relay for Life, a few thousand dollars have been raised in dine and donate events as well as straight donations to the 30 or so diverse teams who will participate.
The USD Relay for Life event will have a campus-wide community presence. Multiple Greek Life Fraternities and Sororities are entered as well as Outdoor Adventures, Colleges Against Cancer, PRIDE, USD HERO Club, Living Learning Communities, STEP/Upperclassmen Residence Halls, Intervarsity Alumni, Student Veteran Organization and the USD Lifesavers, a team comprised of a mix of USD faculty, administrators and staff.
One of the annual fundraising standouts for USD Relay for Life is the Greek Life community. This year's event will be no exception. Truthfully, this student population's participation should be doubly special. During its annual Greek Week in late March, the charitable cause that all fraternities and sororities fundraised for was supporting a current USD student and Greek Life community member battling a rare stomach cancer called gastrointestinal stromal tumor.
The Greek Life community raised more than $14,500 during Greek Week for UCSD's Moores Cancer Research Center to aid the student's doctor to further research on his type of cancer.
"I was really excited to be part of the philanthropy this year during Greek Week because it was someone in our Greek Life community that we got to help. We've raised money for other awesome causes, but this one hit really close to home. It was really special to see our Greek community donate so much to support the student," said Alexa Audino, a junior international relations major who serves as Vice President of Philanthropy and Community Service for USD's Panhellenic Council.
The USD Relay for Life's focus is serious about cancer awareness, but there's also a myriad of activities for participants during the event to partake. This year there will be games and fun such as Mr. Relay, Human Foosball and the always popular Bubble Soccer. There will be great food and fun for all. Laps will be done around the Valley Field area by team members throughout the afternoon, evening, overnight and morning. But each team will often have a set number of activities planned at their respective designated areas that build camaraderie and community.
There will also be a few specific events that will engage the entire Relay for Life community at specific times. The event starts at 3 p.m., but the Relay for Life Opening Ceremony is at 4 p.m. A Survivors' Lap will commence at 4:30 p.m. A Luminaria Ceremony will take place at 8 p.m. Each luminaria bag on the course represents a loved one lost to cancer, brings support to those who are affected by it and honors survivors. The closing ceremony is at 10 a.m. Saturday. It's a time to celebrate everything that the USD community has accomplished, remember those who we've lost and a renewed commitment to help end the pain and suffering of cancer.
For more information or to donate to USD Relay for Life, please visit, relayforlife.org/usdca
— Ryan T. Blystone