Peace Student Reflects on Refugee Camp Work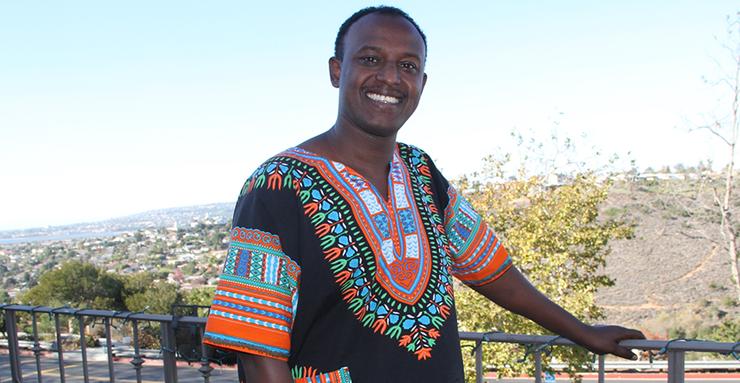 The Joan B. Kroc Institute for Peace and Justice and the San Diego-based organization Breaking the Silence Together will host "Walk in Their Shoes: Standing with Survivors of Sex Trafficking," on Dec. 1 in the IPJ Theatre to raise awareness. Current Kroc School of Peace Studies master's student Yishak Kassa Tefferi worked for a nonprofit NGO, Danish Refugee Council, in Northern Ethiopia, earlier this year to set up a new field office in a refugee camp. He speaks about refugees who participate in the secondary movement, a decision that can put them at great risk.
According to the Office of the United Nations High Commissioner for Refugees (UNHCR), Ethiopia is the largest refugee-hosting country in Africa. It shares porous borders with Eritrea, Somalia, South Sudan and Sudan, which are grappling with instability and conflict.
Ethiopia maintains an open-door asylum policy to those seeking refuge in its territory. Currently, more than 739,000 refugees, mainly from Somalia, South Sudan, Eritrea and Sudan live in more than 23 refugee camps across Ethiopia. More than 100,000 refugees are from Eritrea alone.
My Work in Northern Ethiopia
From April to August 2016, I served as a deputy area manager of the Danish Refugee Council (DRC), a nonprofit, humanitarian international Non-Governmental Organization that works in more than 70 countries, including Ethiopia.
I was situated in Northern Ethiopia, setting up a new field office in Hitsats refugee camp, which is home to more than 10,000 Eritrean refugees. There are four refugee camps in Northern Ethiopia — Shimelba, Mai Ayni, Adi Haroush and Hitsats — which, combined, host more than 35,000 Eritrean refugees.
Secondary Movement
The unique feature of Eritrea refugees is the fact that most of them are young and educated. With the hope of making a better life in Europe, more often than not, they engage in secondary movement, which makes them vulnerable to trafficking. In fact, more than half of the refugees in Hitsats leave camp within six months after arrival, literally making it a transit camp for refugees en route to Europe. Furthermore, Eritrean refugees constitute the fourth-largest refugee group crossing the Mediterranean Sea next to Syrians, Afghans and Iraqis. According to Amnesty International, Eritrean refugees cross to neighboring countries Ethiopia and Sudan, fleeing forced conscription and indefinite military service.
En route to Europe, most refugees travel across the Sahara Desert crossing to Libya via Sudan. This popular route is known to be an area where some of the most dangerous networks of traffickers operate. Hence, most of the refugees remain vulnerable to extortion, torture, organ removal, rape, sexual slavery, enforced impregnation, maiming and killing. The lucky few who survive these tragic ordeals crossing the Sahara often face lengthy incarceration by various militia groups in Libya for unlawful border entry. A considerable number of Eritrean refugees risk their lives trying to make the dangerous crossing of the Mediterranean Sea. Every time a boat capsizes in the Mediterranean Sea, its impact is easily felt in Hitsats refugee camp.
Providing Knowledge, Hope
The DRC's program mainly focuses on youth engagement and protective activities, which aim at improving the hostile living conditions in the camps and the ensuing sense of hopelessness that drives the youth to engage in secondary movement. Thus, the programs aim to give youth a sense of hope through access to secondary and post-secondary education; orientation and mentorship; as well as entertainment and art therapy through songs, drama, storytelling and poetry. DRC further provides youth with information and awareness-raising on risks of secondary movement, including human trafficking. The program also conducts research that would improve the knowledge base on the causes, trends and effects of onward movement of the refugees.
The DRC is working to make a difference because, in the absence of durable solutions, there is little to prevent youth from choosing such a dangerous journey.
— Yishak Kassa Tefferi '17