Recent USD Graduates Dedicate Year of Service as Jesuit Volunteers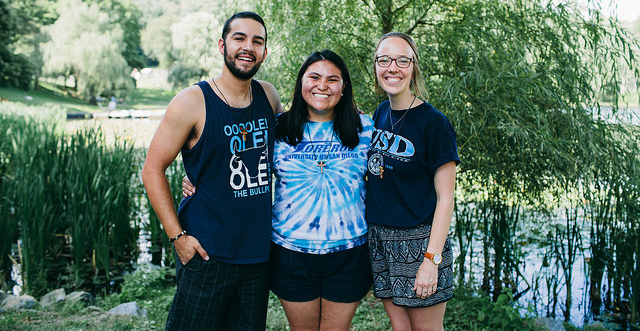 Students at the University of San Diego are trained to look closely at the world around them and carve out a role that brings meaning not only to themselves, but to others as well. In a wonderful example of that institutional tenant, eight University of San Diego alumni recently participated in full-time service with two Jesuit Volunteer organizations: Jesuit Volunteer Corps (JVC) and JVC Northwest.
Torero volunteers with JVC include: Summer Elliot, Miriam's Kitchen, Washington D.C.; Ashley Escobar, St. Ignatius School, New York City, NY.; Alec Hartman, Room In The Inn's Campus for Human Development, Nashville, TN.; Dani Meyers, Family Violence Law Center, Berkeley/Oakland, CA; Morgan Pike, Native American Health Center, Berkeley/Oakland, CA.
Torero Volunteers with JVC Northwest include: Alex Benson, St. Paul's Mission Grade School, Hays, MT.; Leanne Falzon, Sisters Of The Road, Portland, OR.; Eliana Navarro, Northwest Immigrant Rights Project, Wenatchee, OR.
As full-time volunteers with two Jesuit Volunteer organizations, these graduates commit to the dignity and well-being of all people, particularly those on the margins of society. Living a life rooted in a faith that does justice, each young person lives and serves within a reflective community alongside other Jesuit Volunteers (JVs).
University of San Diego graduates are some of the 148 JVC Northwest JV/AmeriCorps members serving in 25 Northwest communities, and 283 Jesuit Volunteers from JVC serving in 50 communities across the world.
JVs serve hundreds of thousands of people each year, addressing significant social issues including hunger and homelessness, poverty, domestic violence, end-of-life care, mental health, and food justice. These young leaders commit to a faith that does justice while accompanying many communities, including Indigenous communities, schools, health clinics, and advocacy organizations across the country and world.
"On behalf of our entire community, I am excited to welcome another amazing cohort of courageous young women and men, including graduates from University of San Diego, who are committing one or two years of full time work with the Jesuit Volunteer Corps," said Tim Shriver, President of JVC. "Our JVs bring tremendous energy and passion, challenging questions, and a commitment to letting their faith
inspire action toward building a more just and hopeful world. They enter humbly and boldly into communities around the world, committed to living intentionally and authentically in relationship with those on the margins of society."
"Jesuit Volunteers generously share their gifts, enthusiasm, and skills to meet the most urgent needs in local communities and generate positive change. For 60 years, JVs have formed strong relationships with those with whom they serve, developing social capital and building up the common good," says Jeanne Haster, Executive Director of JVC Northwest. "We are grateful and humbled to welcome this year's group of passionate and Spirit-filled JVs to this community during our 60th anniversary of JVs in the Northwest. JVs inspire all of us as they embody commitment, empathy, a desire to change the world, and the courage to spend one of the most exceptional and challenging years of their lives in service and in intentional community with other JVs."
— USD News Center