Photo Exhibit at USD Examines Farmworkers' Movement
Photo Exhibit at USD Examines Farmworkers' Movement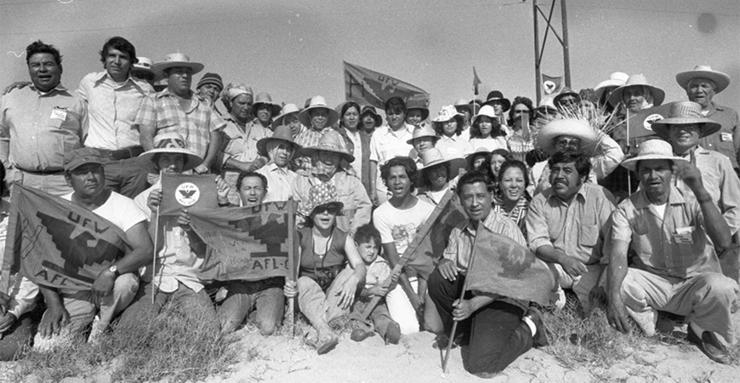 A photography exhibit produced by Carlos LeGerrette, an assistant to United Farm Workers labor leader and civil rights activist Cesar Chavez, opens September 9 in the Fine Arts Galleries within the Joan B. Kroc Institute for Peace and Justice.
The 60-plus photo exhibit, The Farmworkers Movement Through the Lens of Carlos LeGerrette, examines a historic time period when Chavez, co-founder of the National Farm Workers Association (later known as the United Farm Workers union), sought to improve work conditions and compensation for agricultural workers. This exhibit, featuring photos from 1970-75, consists of some images that are more private and are not often seen by the public.
University of San Diego Professor of Ethnic Studies Alberto Pulido, PhD, and Jeffrey Mark Burns, PhD, director of USD's Frances G. Harpst Center for Catholic Thought and Culture, worked together with the close cooperation of LeGerrette to present it.
The exhibit, open from noon to 5 p.m. Monday through Friday, will be the centerpiece of several supporting events. The university is having an undergraduate Honors Program course, a publication and a speaker series, Cesar Chavez and Voices of the Farm Workers' Movement, will take place on Oct. 11, 18, 25 and Nov. 1, 8. LeGerrette will speak on campus Nov. 10 to discuss the exhibit and more.
A special opening celebration for the exhibit will take place at USD on Thursday, Sept. 8. Richard Ybarra, former personal assistant and security director for Chavez and current CEO and executive director of San Diego's Community Associations Institute, will speak at 5:15 p.m. in the KIPJ Peace and Justice Theatre. A reception follows at 6 p.m. in IPJ's Garden of the Sea.
The exhibit is sponsored by USD's University Galleries, CCTC and the Ethnic Studies Department within the College of Arts and Sciences.
For more information about the exhibit, please contact the Center for Catholic Thought and Culture by email at cctc@sandiego.edu, by phone (619) 260-7936 or visit www.sandiego.edu/cctc