Alumni: USD Paralegal Program Produces Results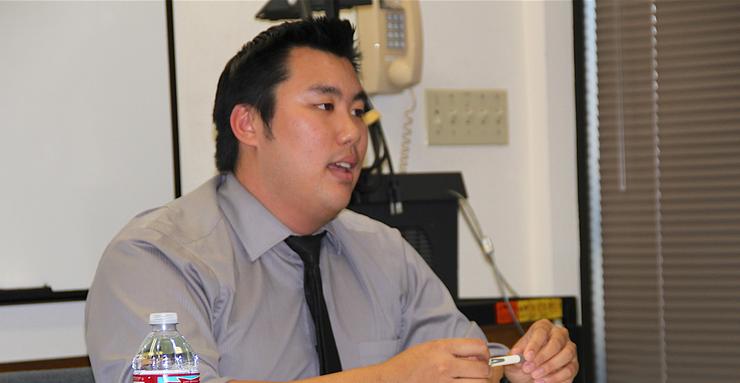 "The goal," as stated in the University of San Diego's Paralegal Program description, "is to familiarize students with basic legal concepts and terminology, elements of legal research, court structure, computer software use in a law office, legal ethics and provide instruction in substantive areas of law."
But it's how students act on the knowledge and training received from quality in-the-field instructors and how it opens doors to career opportunities that ultimately makes a student's decision to obtain an American Bar Association-approved certificate from USD's highly credible 40-year program worthwhile.
Three recent graduates, Andrew Che in April 2015, Christopher Barger in Summer 2015 and Jessica Shoemaker in December 2014, returned to USD to participate in a July 27 Career Forum Panel. They shared personal stories, offered great advice to current, incoming and prospective students and demonstrated the immense value a USD paralegal certificate has in today's job market.
Andrew Che: Willingness to Learn
Andrew Che '14, who earned a USD political science degree, took the day paralegal program. He took a diverse set of classes to get a foundation and did an internship through the San Diego County District Attorney's Office. He wound up staying for an additional six months to deepen his skill set and experience. He then served as a lease abstractor in a contracted position before his current role as corporate and estate planning paralegal for the Ferris and Britton law firm this past March.
"The paralegal program really prepped me for where I am today," said Che, who first learned about it while considering law school and taking the LSAT. "You will have the skills when you finish the program. It's all about having the confidence to use what you have and mesh it with a willingness to learn."
Che appreciated his internship, which was in the gangs' unit of the DA's office, and the motivation it gave him to continuously build on his skills for subsequent job searches and experiences.
"Picking things up quickly, showing a willingness to learn, is important. Firms are looking for individuals who are highly motivated," he said. "Be willing to learn new technology because law firms are transitioning to filing everything electronically."
He encouraged the audience to join professional organizations to further networking opportunities, maintain contact with the Paralegal alumni group and attend minimal continuing legal education (MCLE) courses to further skill development.
Jessica Shoemaker: Appreciating Career Resources
Being a USD paralegal graduate is also a major resource advantage, especially when you learn about a job opportunity you didn't even know you were qualified to seek. Jessica Shoemaker, a 2007 criminal justice graduate of the University of Hartford, was working as a local civil litigation legal assistant while taking USD's evening paralegal program. Beyond the program's wealth of knowledge that she praised, she also appreciated USD's career advancement services. Near the end of the program, Shoemaker had a resume review and took some key suggestions on how her information was presented to heart along with other valuable tips.
"Once you've perfected your resume, USD keeps a final draft. That's how I got the job I have today," said Shoemaker, who has been at NuVasive, Inc., as an associate paralegal since March 2015. "I found out that USD had submitted my resume to a job listing. I didn't know about it, but I'm glad they did. I got an email and it piqued my interest. The process took about three and a half weeks. I also did my first-ever salary negotiation. USD professors would give us tips on how to apply for a job and (salary negotiation) was something I'd never experienced. I was able to negotiate and I got a higher salary just for trying."
It was also a reminder that paralegals shouldn't be afraid to apply to jobs even if one doesn't quite fit the experience level sought.
"This job listing wanted someone with three years of corporate law experience. But USD thought I was a good fit. The company told me that while three years was ideal, they also wanted to hire someone who worked hard, who's smart and can handle a large workload. I think going through the night program showed them I could do it. There are other things, too, but you never know if what they're looking for is everything else on your resume."
She's happy at NuVasive and her varied skill set is an everyday asset in the corporate workplace, whether it's helping international clients, doing administrative tasks or crafting clear and concise legal copy that requires a top executive's signature.
Christopher Barger: Inexperienced to In Demand
Christopher Barger is another type of student attracted to the paralegal program. A San Diego State University graduate with a degree in music and an eight-year Marines veteran, Barger saw a promotional flyer at SDSU about the program and applied. Self-admittedly, he knew very little to nothing about the law field, but chose the intensive summer day program to gain legal basics and he did an internship in San Diego's Public Defenders' Office.
He appreciated that instructors welcomed him and guided and encouraged him throughout the program. "I had a million questions and they answered every single one of them," Barger recalled. "They weren't condescending to me at all. Law was, at first, a foreign language, but they were very patient with me."
Having a paralegal certificate from USD, which had the first program in San Diego in 1975, was like owning a golden ticket. Three days after finishing, he started as a paralegal for a civil rights-focused law firm, Iredale and Yoo, APC.
Just last week, Barger said he returned to work in the Public Defenders' Office to assist attorneys who work on cases involving government agencies.
He continues to learn each day and utilizes what he gained in USD's program. He does, however, fully understand the key role that all paralegals play.
"I help the attorneys with whatever they need. I do a lot of filing, a lot of clerical stuff, respond to requests, everything. I assist attorneys with everything so they can focus on attorney stuff."
—Ryan T. Blystone
Interested in the USD Paralegal Program? Attend an information session Aug. 6 or Aug. 15. Fall applications are due by August 30 and fall classes start Sept. 6.