Professor Reflects on Fulbright Work in Indonesia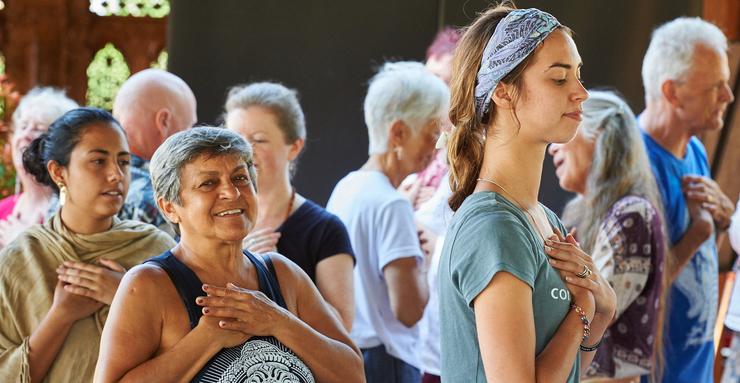 Academic research requires meticulous discipline, but it often leads to unexpected adventures. In 2015, Karma Lekshe Tsomo, PhD, a University of San Diego Theology and Religious Studies professor of Buddhist studies, received a Fulbright Senior Scholar award for research on "Buddhist Women of Indonesia: Multiple Subaltern Narratives."
As an affiliate at the Indonesian Consortium for Religious Studies at Universitas Gajah Mada, her aim was to learn more about women's roles in Buddhism as practiced in Indonesia, the world's largest Muslim country. Little did she suspect that some of her most rewarding experiences would be connecting with women across religious traditions. A Christian professor immediately proposed a visit to a favorite Buddhist village with her husband, a well-known expert on Buddhist sacred sites.
The focus of Dr. Tsomo's ethnographic research was women's religious lives in the diverse Buddhist communities of Java and Sumatra, famed for their coffees and tigers. There she learned how race, religion, politics, and gender are interwoven in people's everyday lives. Muslim taxi drivers, for example, were especially well-versed in Buddhist and Hindu traditions.
Also, the 14th Sakyadhita International Conference on Buddhist Women took place and it brought 1,000 people from 40 countries and all over Indonesia together in Yogyakarta, the cultural heartland of the country. This extraordinary cross-cultural gathering, centered on the theme "Compassion and Social Justice," brought together social justice activists from across Indonesia and around the world.
Every day brought heartwarming interreligious encounters for Indonesian and international participants alike. Although many young volunteers were fasting for Ramadan, they were full of energy and enthusiasm. Warm friendships developed around Javanese culture, Buddhist feminist wisdom, social analysis, meditation, and women's experience. The deeply meaningful interactions were eye-opening for all.
The conference was also a once-in-a-lifetime opportunity for two USD students. Rosalie Plofchan gathered information for her Keck undergraduate research project on "Women, Religion, and Peacebuilding" and Kate Vosti (pictured, above, far right), a graduate student in the School of Leadership and Education Sciences, led a workshop at the conference on compassionate leadership.
Incorporating panel discussions, workshops, meditations, the arts, and tours, the conference was a showcase of cultural and religious pluralism. It demonstrated the valuable roles women can play in countering ignorance and religious intolerance to shape a more just and peaceful world.
Photos courtesy of Karma Lekshe Tsomo