Nine Faculty Selected for 2016-17 University Honors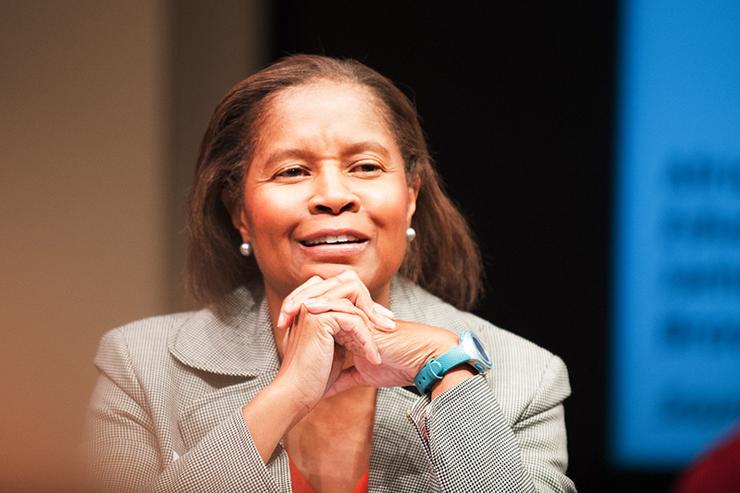 Nine outstanding University of San Diego faculty members have been announced as the 2016-17 recipients of awards highlighting their contributions to the university's academic and learning environment.
Five have been chosen for a University Professorship. The University Professorship is the highest academic honor bestowed university-wide and is given in recognition of outstanding scholarly achievements in teaching and research. This year's recipients are: Brian Clack (Philosophy) and Alberto Pulido (Ethnic Studies) from the College of Arts and Sciences; Shiley-Marcos School of Engineering's Industrial and Systems Engineering Professor Rick Olson; School of Business' Marko Svetina (Finance); and School of Law Professor Mary Jo Wiggins (pictured).
Two faculty members are Steber Professor honorees. Louis Komjathy, associate professor in Theology and Religious Studies and program director of Contemplative Studies, and School of Business Accountancy Professor Barbara Lougee are this year's selections. The Steber Professorship recognizes substantial contributions in the areas of teaching, research and service. This award, made possible through a gift by Clarence L. Steber, is limited, by the intent of the donor, to faculty recipients in Theology and Religious Studies and the School of Business.
Two faculty honors specific to the School of Law were also announced.
The Herzog Endowed Scholar is Law Professor Michael Ramsey. This award recognizes meritorious teaching and scholarly productivity from a USD law professor. Ramsey, the Hugh and Hazel Darling Foundation Professor of Law, teaches and writes in the areas of constitutional law, foreign relations law and international business law. He is also the director of USD's International and Comparative Law programs.
The Class of 1975 Endowed Professorship recipient is Professor Laurence Claus, who teaches constitutional law, comparative constitutional law, and contracts and writes about public law and legal theory. This award was established by the Class of 1975 as its 25-year reunion gift to the USD School of Law. It recognizes meritorious teaching, leadership and academic accomplishments of a USD law professor.
"We can all take great pride and joy in the contributions of these nine faculty to their disciplines and to the University of San Diego, and we are delighted their outstanding achievements are being recognized with these prestigious awards," said Vice President and Provost Andrew Allen.
The nine awards will be formally bestowed at the Fall Convocation on Sept. 9, 2016.