Military Ally: Training Helps USD Better Serve Students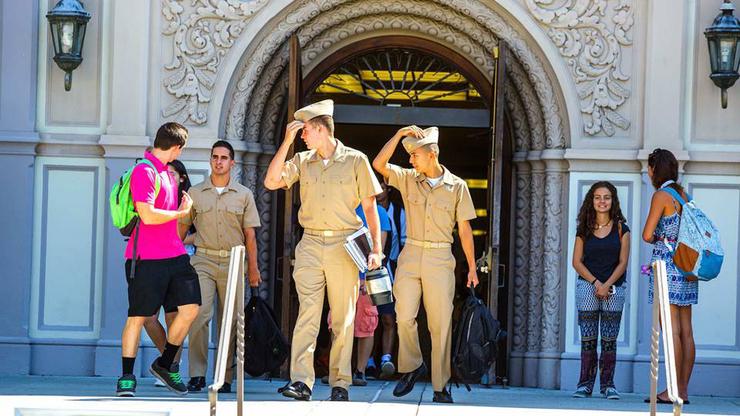 San Diego is a proud military city with rich history and significance. Support for the military is important and seems to be everywhere — local higher education institutions included.
Military personnel and affiliated family members certainly comprise a strong population. And, like most college students, unique challenges and circumstances often arise and require the attention, understanding and resources that faculty, staff, fellow students and programs can provide to support them.
Derek Abbey, the University of San Diego's Veteran Student Services Coordinator, and Todd Kennedy, San Diego State University's Veterans Coordinator, clearly understand this important feeling. The two retired Marines not only know what military officers have done while serving this country, but also what is needed to help them thrive in an academic setting. Abbey, himself, is a current PhD student in USD's School of Leadership and Education Sciences.
Enter the Military Ally program. Jointly run by Abbey and Kennedy, Military Ally is a four-hour informational training program designed to give faculty, staff, administrators and the community at-large insights into the unique background and culture of today's military student. It's an opportunity to initiate understanding to reinforce campus support, establish a network of visible allies and reflect the inclusiveness of all military-affiliated individuals.
Program's Purpose
Military Ally is based on a Vet Ally model created at California State University, Long Beach, as a faculty and staff awareness program. Military Ally, Abbey said, has been offered at SDSU for a while, but the training is starting to gain traction at USD and at local community colleges. Eventually the two want to present it to organizations and businesses in the community.
Last month, Abbey and Kennedy conducted their second training session at USD with more than 20 employees from various Student Affairs departments as well the Office of Provost, Human Resources, School of Business' Graduate Schools and University Communications.
Military Ally had a lot of information to share, including revealing that 582 USD military affiliated students were among USD's Fall 2015 population. This included 277 veterans and 88 active duty officers.
Abbey and Kennedy explained military culture, from common terminology, customs and ranks, to presenting what is different about the make-up of military students. Typically older than a traditional first-year college student, military-connected students have had life experiences such as employment, peer interaction, leadership responsibilities, have their own family, are accustomed to a high training tempo and have experienced boot camp, deployment and combat.
Transition from military to civilian life was covered in great detail. Getting out of the military is a lifestyle change. Understanding it carries a great responsibility for all university employees who work closely with students. Becoming a civilian means losing a structured environment and schedule; losing camaraderie; the need to get a civilian job; choosing what to wear; finding housing and there's even a transition in the structure of eating meals. Add to that the pursuit of an education and new challenges arrive — from choosing a major, selecting classes, studying and developing study habits, willingness to question authority unlike while serving, and adjusting to being a student in an unfamiliar environment.
Military Student Insight
Military Ally had current USD military students Jhonnatan Chinchilla (pictured, above) and Jennifer Castro Garcia attend and provide their stories and answer the group's questions.
"Being a 23-year-old freshman is already a big change as opposed to being an 18-year-old just out of high school," said Castro-Garcia, a Navy veteran who spent some time in Japan. "But my biggest fear my first year of college was doing that and taking care of my young daughter. I'd go to school, take my classes and go straight home to her. When the Veterans Center opened, I went there and it was helpful. There I met other veteran students. It was good to know I wasn't alone."
Her insight gives her a voice to support fellow military students. "Having this age group is definitely beneficial to the diversity that USD strives for, but as someone who was out of school for six years and needing math skills to translate, that's a big gap of lost time. I'd like to see more transitional programming available to get us ready for college."
Chinchilla, 30, is USD's Student Veterans Organization president and has just started his second semester at USD. He spoke about his initial foray into college and being unfamiliar with the application process.
"I was getting information from a 22-year-old corporal how to apply for a Pell Grant," he said. "I slowly tried to pick a school I could enroll at without a big admissions process. I first went to San Diego Mesa (Community College)."
While he eventually found out about USD, applied and said the transfer process went well, he believes more information is needed so all military students are more aware of their college options and that they fully understand the benefits provided to them. As for his adjustment to USD, Chinchilla's role in the SVO, his presence in the Veterans Center and being active on campus has helped him learn and to connect with younger students.
"I went on the (University Ministry) Men's Retreat and it was great. I sat with some kids who had a 4.0 GPA. While there's so much that I can talk to them about like getting stuff ready, about my deployment and everything, I really wanted to ask them how they study. I think we each have things we can offer the other. I'm always trying to learn from other students. It's great to interact with them."
Benefits and Resources
A greater understanding of the financial aid benefits for military veteran students and affiliated family members was also discussed, including the fact that military benefits are only for 36 academic months. Issues of mental health concerns, including post-traumatic stress disorder (PTSD), military sexual trauma or physical injuries that are visible and invisible were addressed. Abbey and Kennedy spoke on situational awareness, noting the signs that a military student or a family member might be going through and how it can affect academic success.
Abbey praised USD's resources to support veterans, such as the Veterans' Center (UC 223), the Student Veterans Organization, an Alumni Veterans Network, a community-building student chapter for Soldiers Who Salsa, and a Veterans' Legal Clinic within the School of Law. Abbey and Kennedy concluded the training with a group photo, a Military Ally pin and a placard for those who complete the program. The latter can be displayed at an employee's workspace and lets a veteran student know that a supportive member of the community is available as a positive resource.
"I'm still figuring out what works for me," Chinchilla said. "If you ask any veteran, their first semester here is an eye-opener, like 'Whoa!' You learn from it, but learning it and understanding are two different things. What works for one of us might not work for me."
Through the Military Ally program, though, USD can be better equipped to serve all military-affiliated students' needs.
— Ryan T. Blystone