USD Receives $12 Million Gift from Noyce Foundation for National STEM Initiative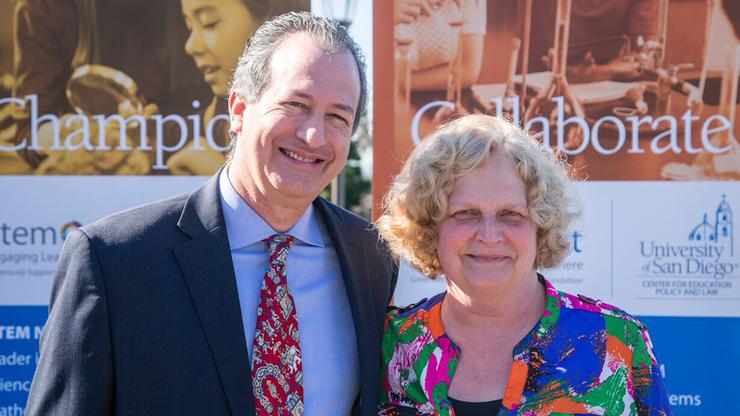 The University of San Diego received a $12 million gift from the Noyce Foundation to advance a national initiative — STEM Next — aimed at inspiring and preparing more young people, especially girls and those from underserved areas, for careers in science, technology, engineering and math.
"We are deeply grateful to the Noyce Foundation and the Noyce family for their generosity, and for putting their trust in us to carry out this important mission," said USD President James T. Harris III, DEd. "Working together in communities throughout the country, we will cultivate and support the next generation of scientists and engineers and encourage them to go out and change the world just as Dr. Noyce did."
The Noyce Foundation was created to honor the work of Dr. Robert Noyce, co-founder of technology giant Intel and inventor of the integrated circuit, which fueled the personal computer revolution and gave Silicon Valley its name.
The $12 million gift, the largest ever received by USD's School of Leadership and Education Sciences (SOLES), will fund STEM Next, a multi-faceted initiative to expand STEM learning opportunities for more students by helping communities develop quality programs and improving those that already exist. The Center for Education Policy and Law (CEPAL), housed within SOLES, will oversee the work of STEM Next. STEM Next does not fund programs directly, but rather the systems and supports they need.
STEM Next will:
• Strengthen STEM learning by improving teacher training.
• Develop web-based tools used in STEM learning.
• Bolster STEM learning with investments in quality curriculum, in before- and after-school programs.
• Convene the best thinkers in the private and public sectors to share best practices, pursue funding and influence how that funding is used.
• Cultivate collaboration across sectors building systems of support in states and communities.
The need for expanded STEM learning is critical. In the future, nearly 80 percent of careers will require at least some STEM skills with STEM job creation outpacing non-STEM jobs significantly. STEM Next focuses on engaging young minds early in STEM learning to ensure a ready workforce for decades to come.
"This historic investment will enable us to dramatically expand our work and impact, giving more young people across the country greater access to STEM education," said Scott Himelstein, director of CEPAL. "Possessing such knowledge will be vital not only in their careers, but also in every day life where science and technology will play an ever-expanding role."
"Today, too few students are pursuing educational paths that lead to careers in science, engineering and technology," said SOLES Dean Nicholas Ladany, PhD. "Working with CEPAL, we will give young students the resources and support they need to prepare them for the full spectrum of STEM careers — from microbiology to architecture to computer programming."
Through STEM Next, SOLES is once again leading the path for adaptive education practices and experiences that truly shift learning to match the needs of today's students. Much of STEM Next's focus will be on nurturing the talent of girls, African-Americans and Latinos, who are vastly underrepresented in STEM-related careers and in obtaining STEM-related degrees. According to the U.S. Census Bureau, only 12 percent of engineers are women — approximately the same amount as 15 years ago. African-Americans and Latinos receive only 19 percent of computing bachelor's degrees despite making up one-third of the college-aged population.
If women were fully represented in the engineering and computer sciences workforces, there would be about 1.2 million more engineers and 1.8 million more computer scientists. If people of color were equally represented, there would be hundreds of thousands more, according to the Census Bureau.
— Pamela Gray Payton