Manchester Hall: New Home for Admissions, Career Development Center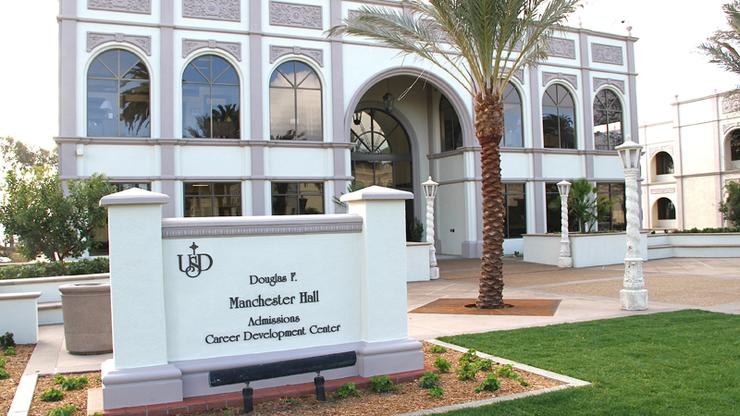 Open the door and enter Manchester Hall, a newly redesigned space on the University of San Diego campus and look around. It may be a normal action, but here, specifically, opening the door is entry to a true start-to-finish space devoted to furnishing information, tools and opportunities for success.
Manchester Hall is the new home for USD's Undergraduate and Graduate Admissions offices as well as the Career Development Center. It's where prospective and current students, parents, alumni and members of the business community can each benefit within this two-story building nestled between the Hahn School of Nursing and Health Science and Olin Hall.
"This shows the public, especially our prospective students, that we're collaborating, that they can visibly see that here's the beginning and here's the end," says Undergraduate Admissions Director Minh-Ha Hoang, whose offices will be on the second floor. "It really allows us to work together efficiently and it will really help us showcase this wonderful university."
Added Robin Darmon, director of the Career Development Center: "We're like bookends. The importance of the career and professional development experience is threaded throughout four years. It has to be planted in their mind, even before they've come and committed to USD. Students and parents both realize this is a priority. These two pieces, us being together, is a natural fit. It just makes sense."
Prospective students and their parents take a popular campus walking tour and learn all about USD and what becoming a Torero entails. Once students are enrolled, this is the place for consultations with career counselors, meeting with a company recruiter or signing up to attend a Torero Trek and students can prepare for their post-graduation plans.
"My main driving force is 'What can we do for our students?'" Vice President and Provost Andy Allen said at a Jan. 12 grand opening celebration. "This is for our students now and for all students who come after them. We want to give them the best service and the best opportunity to succeed after they graduate from USD."
A student-centric open house is scheduled for Thursday, Feb. 4 from noon to 2 p.m.
— Ryan T. Blystone