Campus Compact Names Professor Sandra Sgoutas-Emch National Finalist for Ehrlich Award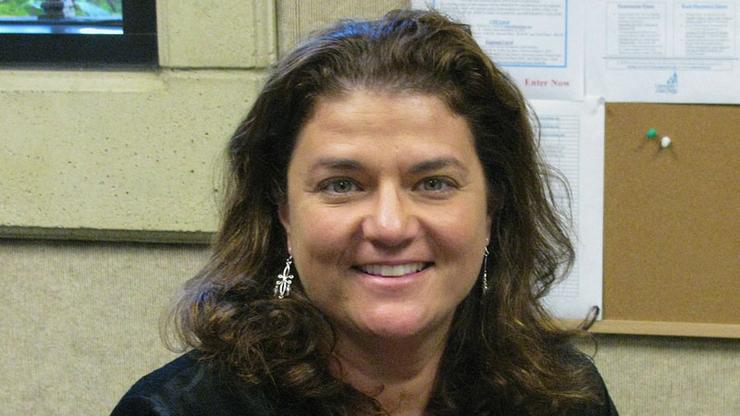 Sandra Sgoutas-Emch, PhD, a University of San Diego professor of Psychological Sciences has been named one of three national finalists of the 2015 Thomas Ehrlich Civically Engaged Faculty Award. The award is bestowed annually to recognize one senior tenured faculty member for exemplary leadership in advancing students' civic learning, community engagement, and contributions to the public good.
Dr. Sgoutas-Emch started the Linda Vista Health and Resource Fair 14 years ago. Since its inception, the annual event has become an important health promotion tool for schools in the Linda Vista community. The fair helps K-12 students to understand the importance of good health practices by partnering with USD students on a semester-long wellness and health-focused research topic. The research teams then co-present their findings to the residents and students of Linda Vista during the Health and Research Fair.
"I am very honored to receive this distinction The work that we have done together over the years in Linda Vista has been the most rewarding part of my career at USD. I believe that institutes of higher education should play an integral part in educating our students about the importance of civic and community engagement and I have been privileged to work with such dedicated individuals over all these years."
Montgomery Middle School Vice Principal Myra Perdoma-Melendez contributed a nomination letter for Sgoutas-Emch's application. In her letter she wrote, "The partnership between Dr. Sgoutas-Emch and Montgomery Middle School began almost 20 years ago. Through her transformational leadership, thousands of students and Linda Vista residents have been deeply impacted by her commitment to the community. Dr. Sgoutas-Emch understands that individual health affects community health. To date, thousands of Linda Vista youth, parents, health care professionals, and USD students have participated in the annual fair contributing to a healthier and thriving community."
Sgoutas-Emch, in addition to being a professor, is director of the Center for Educational Excellence at USD. During her tenure at USD, she has also been the director of the gender studies program, and teaches courses in health psychology and biopsychology.
Before joining USD, she received a two-year postdoctoral National Institutes of Health fellowship in psychoneuroimmunology at the Ohio State University medical center. Dr. Sgoutas-Emch's research interests include the impact of stress, women's health and the efficacy of alternative medicine. She has published in a variety of journals including Psychophysiology, the Journal of Instructional Psychology, and the Journal of Religion and Health.
Campus Compact is a nonprofit coalition of more than 1,100 college and university presidents — representing some six million students — who are committed to fulfilling the civic purposes of higher education. As the only national association dedicated to this mission, Campus Compact is a leader in building community engagement into campus and academic life. For more information, visit www.compact.org