Festive Changemaking Builds Community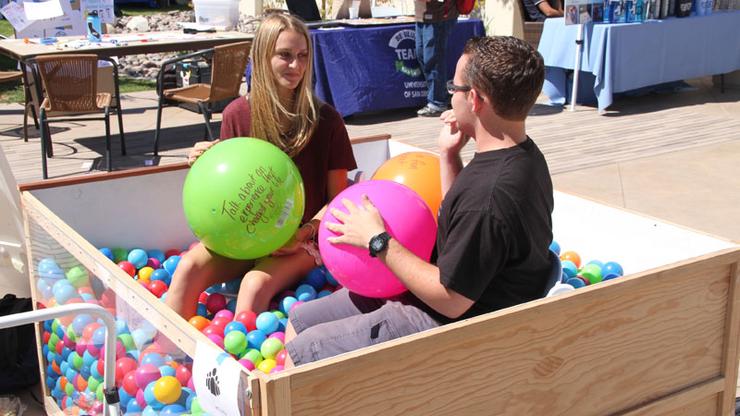 Dylan Valdivia and Madison Ryan saw the results of months of planning, organizing and ideas unfold wonderfully before their eyes Tuesday afternoon on the University of San Diego campus. Along Torero Way and in front of the Hahn University Center, the goal of these sophomore and junior student leaders of the Changemaker Fest Block Party, respectively, was "building community."
This academic year marks USD's five-year anniversary as one of only 30 designated Ashoka U Changemaker Campus selections. Building community, though, is a lifelong commitment. Valdivia, Ryan and all student and staff organizers of the party made sure that all participants were on board. "We wanted to inspire them and to ask, 'How do you inspire a community? How do you inspire changemaking?'"
Building Community
The results were everywhere. People were having a fun time, students engaging with each other, in one area dancing like no one else was watching, connecting with people who might think they had little in common. After students, staff and even USD President James Harris spent some time in a wooden "pit" full of multi-colored balls to relax and have an ice-breaking conversation on fun and thoughtful topics, the mission of this year's Changemaker Fest was accomplished.
"Take a seat and make a friend," Valdivia said of the ball pit idea, which was inspired by Soul Pancake's YouTube video series.
Organizations campuswide and some off-campus with changemaking aspirations were visible and eager to connect with the USD community. The newest cohort of Women PeaceMakers mingled with students and staff, sharing stories about their passions or a meaningful travel trip they've taken. One could learn more about the School of Leadership and Education Sciences' Nonprofit Institute, sign-up for USD's Habitat for Humanity student organization or contribute thoughts about what inspires them in words or artistic expression to #BetheChange.
Messages such as "staying true to myself and what I believe," or "living my values and showing my care for the planet by living sustainably," were written on a giant board. Inspiration and a Treat In the Center for Peace and Commerce's "World Cafe" space, interested passersby were encouraged to sit down, order a delicious bite of Sambuus, a pastry dessert available with Nutella and chocolate or sweet cream cheese and coconut, and the price was "$0.00 … come have a chat with us."
Grace Michel, assistant director for the CPC and coordinator for USD's popular San Diego Social Innovation Challenge, said the center's approach to its Changemaker Fest space was to reach out to the community. "I hope our students would feel inspired to create change. We wanted to create an opportunity for students to take a moment to reflect on what inspires them and to think about how they connect to what inspires them, to take action on making change in the world."
Michel, a 2013 Joan B. Kroc School of Peace Studies' MA alumna, said all messages written on sheets of paper covering the tables would be compiled as "points of inspiration" and would be shared with the community. "We've launched a campaign this year called Innovator DNA, which is about tapping into the creative energy that's inside all of our students. Here, we're getting to visualize some of that."
Indeed, hearts and minds were focused on opportunities and a desire to do and appreciate more. "The diversity of people I meet daily," was one student's answer to the CPC question, What inspires you? "Learning from others' experiences and hearing their stories. Other people inspire me to be my best, true self."
Making Connections
University Ministry offered fun photo opportunities with a life-size cutout of Pope Francis — and it was popular in the wake of his recent U.S. visit — but there was also information about the many powerful programs and ways to get involved. There was a strong message tied to offering support for and learning more about mental health, the desire to create a "culture of care" in the community, strengthening it with the knowledge that "there is help and there is hope."
Visitors to one end of Torero Way could engage in genuine dialogue with local owners of low rider cars and learn about how USD, through the efforts of Ethnic Studies Professor Alberto Pulido and others, have been partnering on a history preservation project for Barrio Logan and Chicano Park.
Perhaps the most visible item on hand was a large, green recreational vehicle belonging to Road Trip Nation. The RV had 93,000-plus miles on it, meaning it served as a place for people to step into its confines and speak with others and share thoughts and for students to think about the future and where they see the road taking them. Messages from previous visitors cover the RV's inside walls. Some offer life advice, some share their passions and others, a past RV guest named Felipe, lets everyone know what moves him and where he is in his life.
Inspired for Change
"I have awoken. A passion has jolted my spirit. The world's truths have cleared my vision. The voice of our human spirit has been heard. Injustice has narrowed my focus. Starvation has energized my soul. A roar for help has empowered my mind. Oppression has emboldened my voice. Our struggle is my motivation. Our fear is my strength. I am here to serve. I am here to listen. I am here to lead. It's no longer a dream, for I have awoken."
Felipe isn't a USD student, but he seems to channel what Dylan Valdivia sought at the Changemaker Fest Block Party.
"I think it's a mindset and it's something that the Hub is trying to teach people. But you don't have to belong to a Changemaker club or be a (Changemaker Student) Committee member to be a Changemaker."
— Ryan T. Blystone
The USD Student Changemaker Committee and the USD Changemaker Hub are sponsoring a popular event, back for its third installment, which is called My Story. It's described as a night of stories, community and empathy. A group of courageous USD students will share their stories with the campus community. It's an equally important opportunity for the campus community audience to sit down and listen. This event's five USD student participants are Courtney Windju, Nick Bihr, An Nguyen, Raul Villar and Madison Ryan. My Story runs from 7-8:30 p.m. on Wednesday, Sept. 30, in UC Forum C.