Addressing Cyber Security
Launch of USD Center Draws Local, National Acclaim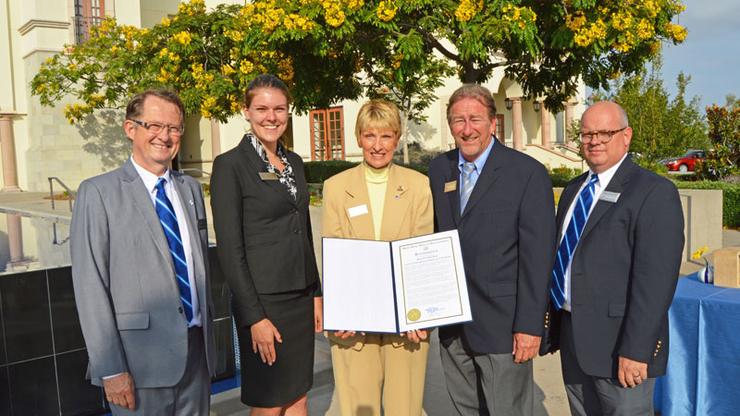 The University of San Diego launched its new Center for Cyber Security Engineering and Technology (CCSET) to national acclaim as a model for education, government and business collaborating to create game changing people and research to defeat advanced persistent threats.
"I know of no other school using a total immersion strategy to educate cyber professionals. This strategy, employed by USD in my opinion, is the most efficient and effective way to teach cyber security and serves as a model for the nation," said Thomas A. Baer, U. S. Department of Homeland Security Deputy Director of the National Cyber Security and Communications Integration Center.
The event, held on July 29, marked the beginning of a new chapter at USD, with the planned creation of three Masters degrees focused on cyber engineering, operations, leadership, and law, and expanded activities with research and community service.
"USD prides itself on supporting the community, providing exceptional educational opportunities, and with focus on moral, ethical values as well as a true sense of service," said USD Provost Andrew T. Allen. "We've never in USD's history brought on a program of this size and we are thrilled to announce this today. It gives us a great sense of pride."
"Cyber security is an area that is in high demand and needed," added Jason Lemon, Dean of Professional and Continuing Education. "It's a perfect fit for us."
The CCSET is the culmination of efforts by USD to engage with the San Diego community on the current direction the city is taking to become a center of excellence in the domain, the needs for business and the economy, and the ways USD can support these goals through education, training, and research. This work included heavy involvement with the large military populations in San Diego who are continuously defending this new domain of warfare from a host of adversaries.
"Having a program that focuses on in-depth education and training of cyber professionals is critical to our ability to provide the support the nation counts on today's NAVY delivering," said RDML John W. Ailes, Chief Engineer, SPAWAR. "In fact, SPAWAR has been given the mission of preparing cyber security professionals for the NAVY world-wide. We share everyone's excitement regarding USD's new Center."
"This center has the potential to greatly impact the business sector in San Diego by providing the people we need to fulfill the employment gap in cyber security. It is all about jobs," said San Diego City Council President Sherri S. Lightner. This center could become not only one of the best in the nation, but one that should strive to be the best world-wide."
A joint program between the USD Shiley-Marcos School of Engineering, and the Professional and Continuing Education Program (PCE), the CCSET will begin offering degrees in January of 2016. The Masters of Cyber Security Engineering will be the first Master's degree the Shiley-Marcos school has offered, while the Masters of Cyber Security Operations and Leadership will extend PCE's tradition of excellence in offering high quality, fully online programs.
Unique in construction, CCSET is focused on delivering curriculum and research that address the types of threats ravaging United States' intellectual property and individual privacy, and those which pose continuous harm to its citizens. With the numerous undertakings San Diego has made to position itself to be responsive in the field, the community and USD feel that this Center could serve to enhance and expand the efforts to create an environment that can foster meaningful innovations and solutions.
U.S. Magistrate Judge, the Hon. Mitch Dembin reflected on some of the many projects he'd worked on over the years, such as the Mayor's Cup which targets bright high school students in a cyber capture the flag competition, and stated that this center will be a boost to all of the existing programs. "Having a program embark on this formidable topic using a holistic approach will touch on a variety of subjects such as retribution for nefarious cyber acts to the laws currently at play in our country versus those on the international stage. Discussions such as these can be very instructive for improving the way corporations and government develop meaningful cyber policy."
"This center is arriving exactly at the right time and we are thrilled to be here today to thank USD for stepping up in such a proactive and responsive way to the greater San Diego area … and then there are the national needs as well." said Chad Nelly, CCOE Board Member and Executive Vice President of ESET.
"Our goal is to complement the numerous programs already doing great things in the cyber arena in San Diego, and our hope is to enhance those efforts and where needed to fill gaps," said CCSET director Winnie Callahan. "Our success will depend on partnering and collaborating with the community and we plan to do just that!"
Along with the two degrees launching in January, CCSET plans a host of community outreach activities, engagement with K-12 schools, numerous research projects and partnerships, and forums to raise the level of discourse in emerging cyber topics.
"We're excited today … we have a new Center to address the number one challenge of our time, and our School of Engineering now has its first Master's degree; but we invite all of you to stick around," said Shiley-Marcos School of Engineering Dean Chell Roberts said. "You ain't seen nothing yet!"
A proclamation from San Diego Congressman Scott Peters recognized the formation of the Center for Cyber Security Engineering and Technology and expressed confidence in what it will add to San Diego and the nation. From left are Shiley-Marcos School of Engineering Dean Chell Roberts, Sara Czarnecki representing Congressman Peters, CCSET Director Winnie Callahan, USD Provost Andrew Allen and Professional and Continuing Education Dean Jason Lemon
— USD News Center