Associated Students Welcomes You!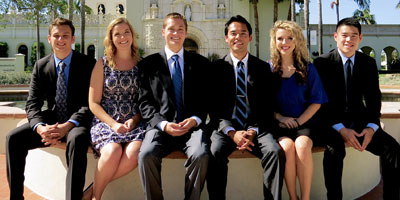 Associated Students is the student governing body representing the voice of the undergraduate student population at USD. Composed of 30 elected positions and numerous appointed positions, Associated Students (AS), as well as its campus programming board known as Torero Program Board (TPB), serve USD students to make campus life more active, inclusive, lively, and spirited.
In Spring 2014, over 40 students were elected or appointed to form the 2014-2015 AS and TPB Leadership Team. Comprised of executive positions, director and coordinator positions, and Senator positions, the team has already begun working on making the upcoming school year great! But, the team still has openings!
All students are invited to run for open elected positions this Fall semester! Whether you are a new student or a returning student, we on AS encourage you to join our team and represent the students of USD. It is a ton of fun and you get to make a difference by speaking for change and improvement of student life.
To learn more about Associated Students, go to our website at www.sandiego.edu/associatedstudents. You can also like us on Facebook at https://www.facebook.com/usdassociatedstudents, or follow us on twitter, @usd_AS , and Instagram, @usd_as!
Keep an eye out for more information on AS Elections in the Fall semester. Elections Information Meetings will take place within the first two weeks of school, with elections held at the end of September. If you are passionate about USD, want to target student issues on campus, and want to enhance Torero Spirit and student life, AS is perfect for you!
We cannot wait to meet all new Toreros, as well as welcome back all returning students in September! Olé!