Casey Dominguez, PhD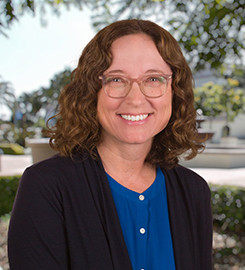 Office:
Kroc Institute for Peace & Jus 259A
Department Chair and Professor, Political Science and International Relations
PhD, University of California, Berkeley

MA, University of California, Berkeley

BA, University of California, Berkeley

ICPSR Training Program in Quantitative Methods of Social Research, University of Michigan, Ann Arbor
Casey B. K. Dominguez, PhD, joined the USD Political Science faculty in 2005. Her research interests include congressional elections, political parties, campaign finance, and the presidency. She teaches upper and lower division classes on American Politics, as well as an upper division class on research methods.
Areas of Expertise
Areas of Interest
Dominguez' teaching interests include a wide range of topics in American politics. She teaches the introductory American Politics class, as well as upper division courses on the presidency, parties and interest groups, and campaigns and elections. She has also taught classes incorporating research methodology, including the Political Science/International Relations research Capstone, and an interdisciplinary honors course in Social Network Analysis.
Office Hours
Section 01
8/30 - 12/22
M
2:20 pm - 3:20 pm
Zoom
8/30 - 12/22
W
8:30 am - 11:00 am
259A KIPJ
8/30 - 12/22
T TH
9:45 am - 10:30 am
259A KIPJ