Contact:
School of Peace Studies

Email: peacestudies@sandiego.edu
Phone: (619) 260-7919
Fax: (619) 849-8109

Location: KIPJ Room 113
Joan B. Kroc School of Peace Studies
5998 Alcala Park
San Diego, CA 92110
>
Biography
Michael Lettieri
Program Assistant
Ph.D., History, University of California, San Diego
B.A., Bowdoin College
Dr. Lettieri is currently a Program Assistant for the Trans-Border Institute where he works on freedom of expression and violence in Mexico and Central America. He was previously a fellow at the Center for U.S.-Mexican Studies and a Fulbright-Hays fellow in Mexico City. Prior to beginning his Ph.D., Dr. Lettieri worked as a Research Fellow at the Council on Hemispheric Affairs and served as an election monitor during Mexico's 2006 federal election. His research examines political culture, policymaking, and corruption in Mexico under the authoritarian PRI regime. Through a case study of the country's bus transportation industry, the work reveals how the PRI's cooptation of mid-level entrepreneurial elites maintained macropolitical stability.
Contact Information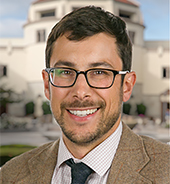 Email | mlettieri@sandiego.edu
Phone | 4166
Office | KIPJ 127