Waste
The University of San Diego promotes a Zero Waste goal for the campus by focusing on various campus initiatives. USD has incorporated single-stream recycling across campus to make recycling easier. To help divert waste from paper cups, Dining Services promotes their Sustain-A-Bottle, a reusable water bottle for refills. Dining areas contain pre-consumer composting sections, while community composting takes place at USD's Crossroads Garden and SOLES. By using DocuSign instead of paper, USD has reduced solid waste by 2,046 pounds. Throughout the school-year, USD promotes and hosts various Zero Waste programming that educates the community on mindful consumption.
USD Waste Reduction
Zero Waste Event Guide
Learn about USD's commitment to zero waste, why it is important, and how to plan a zero waste event to help USD become a more sustainable campus. This zero waste event guide provides useful tips and tricks on marketing, planning, and hosting events in a sustainable manner.
Sustainable Procurement Guide
The University of San Diego provides a purchasing guide for all campus offices and departments to ensure that they are in compliance with the University's sustainability goals.  These guidelines can be found here.
Campus Donation Bins for Disabled American Veterans
In an effort to divert material from the landfill and assist those in need, USD partners with Disabled American Veterans (DAV) for our donation program.  USD community members can place gently used clothing, linens, housewares, electronics, books, toiletries, etc.  in any of the nine collection bins located around campus.  These items will be donated to local veterans.  Non-perishable food items should be donated to one of the USD food pantries on campus.  
Collection bins are located at the Tram Stops, SOLES, Maher, the Student Life Pavilion, Presido Terrace Apartments, University Terrace Apartments, Bosley's Cafe, Manchester Hall, and the Vistas (Palomar). 
Between May and November of 2019, students and community members have donated 41,100 pounds of goods.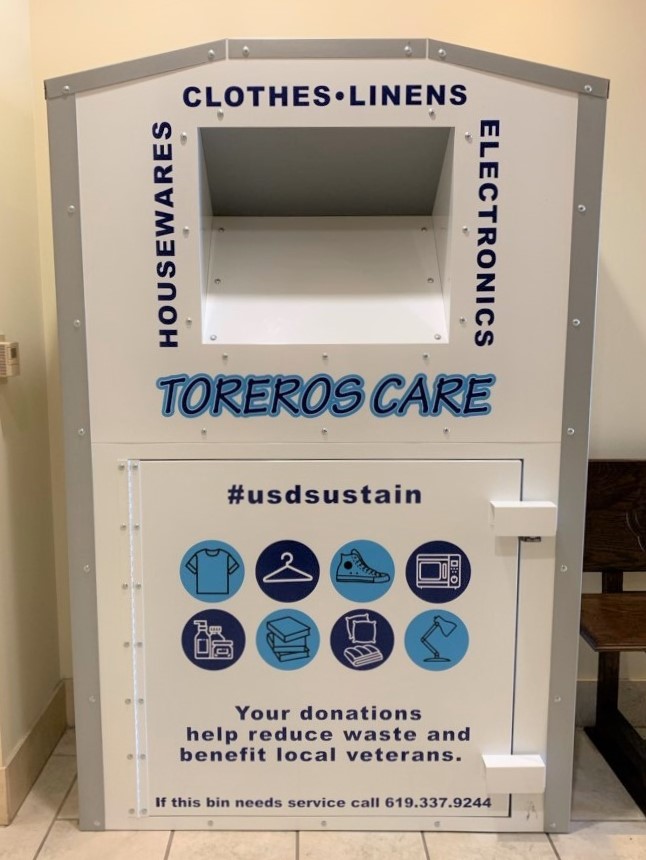 National Sword Effect
In January of 2018, China enacted their "National Sword Policy" and stopped accepting plastic waste. Up until that point, China had imported almost half of the world's recyclable waste.  This decision completely disrupted the recycling economy, as other nations had heavily relied on China to be the dumping grounds for plastic waste.  
Before China enacted the National Sword Polic, only 9% pf plastics were being properly recycled.  The majority of plastic waste ended up in landfills, or dumped to inevitably wash into the ocean.  More plastic than ever is now ending up in landfills, incinerators or the ocean, and the without a viable, profitably solution to plastics recycling, the problem is likely to get worse unless nations begin to shift away from single-use plastic use and production.