Dr. Esteban del Rio Reflects on Diversity, Inclusion, and Social Justice at USD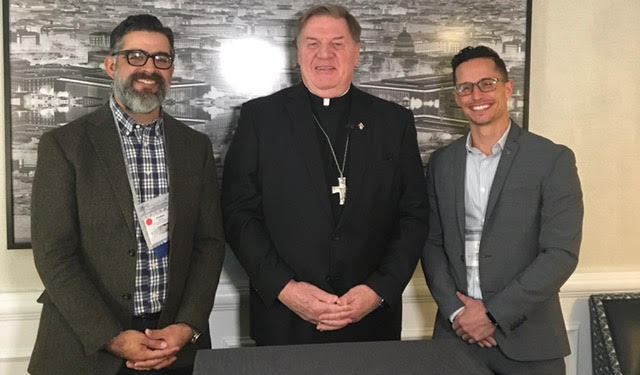 Esteban del Rio, PhD, associate provost for Inclusion and Diversity, director of the Center for Inclusion and Diversity and associate professor of Communication Studies, reflects on multiple topics in his spring semester update message to the University of San Diego community.
As a university and as a community, we find ourselves in 2018 at a pivotal moment regarding diversity, inclusion, and social justice.
Colleagues working across our campus, prophetic student voices, and lessons from community partnerships have contributed to a growth of diversity on our campus. Currently, 38 percent of our students identify as people of color, up from 32 percent in 2012. Among tenure-line and tenured faculty, 25 percent identify as people of color. This number was 18 percent in 2012. Continuing to increase the numbers of people from underrepresented and underserved backgrounds on our campus is necessary for academic quality and expresses our mission confidently.
This results in many ways from faculty and staff working hard, in some cases squeezing water from stones, around our recruitment efforts. From the Faculty Toolkit to enrollment management efforts, we have a good understanding of what works, and what is needed to move the needle further. At the Center for Inclusion and Diversity (CID), we will continue to push for innovation, and invite from our community contributions, catalyzing ideas, and action to these ends.
The work now becomes more difficult. How do we reflect, discern, and recommit to diversity, inclusion, and social justice in all of our functions across the organization? How do we instill these values and practices in professional and academic habits and assumptions to truly transform the university in the direction of our mission? Envisioning 2024 asks us to as well, as we have won high prioritization of diversity, inclusion and social justice in our institutional planning. Everything is set up for progress and big strides in this work, but we need to start from a new place.
At the CID, we will convene students, faculty, and staff this semester to build community around this moment, with announcements to follow.
Much of our work in the CID is advocacy, with support of key partners who develop programs. As an update for this academic year, the CID focuses on the following work:
• Professional Learning Community (PLC): Our 2017-2018 PLC was convened in September 2017 in partnership with the Mulvaney Center, Changemaker Hub, the College of Arts and Sciences, and the Center for Education Excellence. This diverse group develops leadership capacity and recommendations around our strategic planning process. We find it vital to build community around the pathways and goals that Envisioning 2024 sets forth. Last semester, this group met monthly and participated in a local engagement experience in Barrio Logan. This semester, the group will participate in an off-site experience with community partners in Tijuana, Seattle, and New Orleans.
• Accompanying Immigrants and Refugees: The CID continues to support the work of Maria Silva and Greg Prieto, PhD, in their leadership supporting our DACA students and discerning how we best accompany our students, colleagues, and community partners at a time of national foment targeting non-citizens. Dr. Prieto and I attended a pre-conference on Immigration at the Association of Catholic Colleges and Universities' (ACCU) annual meeting and we interviewed Archbishop Cardinal Tobin on "accompaniment" for ACCU's Leaders in Higher Education Program.
• Faculty Recruitment and Development: We continue to refine faculty recruitment efforts, looking forward to results from this year's hires that advances faculty diversity and quality. We have undertaken discernment around tenure and promotion practices to include commitments to diversity and inclusion, as well as strengthening the College of Arts and Sciences' Diversity Postdoctoral Faculty Program to create change for both postdoctoral faculty as well as hosting departments.
• Office of Tribal Liaison: The CID continues to support the work of the Office of Tribal Liaison, which this year has included the opening of the Kumeyaay Garden and creating community for Native students.
Many other items are before us. But for now, we would like to continue to invite you to join with us in solidarity to cultivate change on our campus in the direction of our mission and vision.
— Esteban del Rio, PhD
Photo provided by Esteban del Rio