Center for Educational Excellence
Mission Statement
The mission of the CEE is to support the USD community by providing integrated programs, events, and resources to promote the institution's core values of academic excellence, knowledge, creating a diverse and inclusive community, ethical conduct, and compassionate service.
2019-20 Welcome Message from the Director
Welcome back everyone!
We at the CEE hope you had a restful and reinvigorating summer (I won't call it break because so many of you are working hard over the summer). As we gear up for another year, we invite you to be a part of the diversity of programs we have to offer this year to support your faculty development needs. We ask you to make a commitment to make time to attend or be a part of at least one event this year. Whether it is our Inclusive Education Series, Writing Retreats or Faculty Learning Communities, we hope each of you will make the commitment to participate.
Forecasting for the semester: Our FFF! series will focus on ideas from two books this year – "Small Teaching" by James M. Lang and "The Spark of Learning" by Sarah R. Cavanagh. How do emotions impact learning? And what are small things we can do in our classrooms to support student success? We are excited about the rich events planned for this year's USD Just Read! program as we delve into the themes of homelessness, displacement and migration with all our collaborators. Tech Talk Tuesdays are back in collaboration with the new Learning Design Center where we will explore how technology can be utilized to support student learning, as we shift to Blackboard ULTRA. We are also embarking on a new series called Dine, Debate and Discuss – here we will debate some controversial topics in teaching starting with "Overcoming the Fixation on Graded Deliverables."

We look forward to working with all of you as we improve the academic environment for our students and faculty together.
Thank you, 
Sandra Sgoutas-Emch
Contact Information
Office hours: Mon - Fri 9:00 - 5:00 p.m.
Camino Hall 1F
(619) 260-7402
cee@sandiego.edu
---
Spring 2019 Drop-In Hours:
Sandra Sgoutas-Emch, Director of CEE
Wednesdays: 4:00 - 6:00 p.m.
emch@sandiego.edu | (619) 260-4005    
Rebekah Wanic, Adjunct Liasion of CAS
Mondays: 11:00 - 12:00 p.m. | Thursdays: 2:00 - 3:00 p.m.
rwanic@sandiego.edu | (619) 260-7402
---
Recent
Spotlights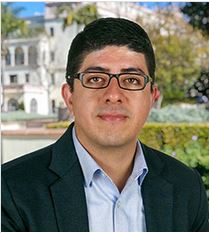 November 3, 2017
Engineering is a loaded term. While engineers help create and shape the world we live in, there are common misunderstandings about who they are and th…