USD Hosts Global Social Innovation Challenge June 23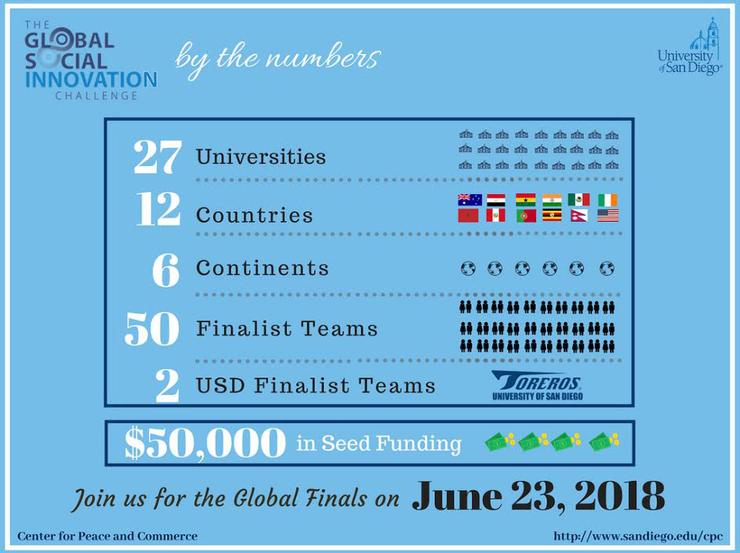 On Saturday, June 23, the University of San Diego will serve as a destination for some of social entrepreneurship's finest college students around the world when it hosts the inaugural Global Social Innovation Challenge.
Fifty finalist teams, including two representing USD, from 27 universities, 12 countries and six continents, will pitch their entrepreneurial ideas in hopes of earning a piece of $50,000 in seed funding. The Global Social Innovation Challenge, which takes the eight-year-old USD concept of the local and regional Social Innovation Challenge to a worldwide level, is hosted by the USD Center for Peace and Commerce (CPC).
Students from universities in Australia, Egypt, Ghana, India, Ireland, Mexico, Morocco, Nepal, Peru, Portugal, Uganda and the United States, have been working hard all year on social impact through the Global Social Innovation Challenge. The CPC looks forward to having social innovators from all over the globe wow the Kroc Institute for Peace and Justice Theatre audience with their ideas to impact the five P's — people, planet, prosperity, peace, and partnership — through the Global Social Innovation Challenge.
According to Rachel Christensen, CPC assistant director, finalists will present their pitches throughout the day on June 23, from 9 a.m. to 3:30 p.m. The final event, which the public can RSVP for right now, starts at 4:30 p.m. It will feature a shortlisted group of finalists who will deliver a quick pitch on stage before prizes are announced. A reception follows in the IPJ's Garden of the Sea area at 6:30 p.m.
Dr. Amit Kakkad, Director of the Center for Peace and Commerce says, "Participating in the Global Social Innovation Challenge has been a year-long journey for the student participants from around the world, who have aspired to think beyond themselves and come up with an innovative solution to a complex societal or environmental issue. Let's come together on June 23 to hear about, and to recognize, resource, and reward their most promising transformative ideas."
The two USD teams to compete in the Global Social Innovation Challenge emerged from a 19-team semifinalists' event April 25 at USD. Refugees Illuminated, which is comprised of Kroc School graduate students Wachira Chotirosseranee, Brittney Ochira and Erica Wright and undergraduates Patricia Cosulich and Carly Lutz, and Water Sensei, which is comprised of David Vesey '08, '17 and Tanya Arora '18, both advanced, will represent Torero changemaking at the global final.
—Ryan T. Blystone