Just Read! Presents Just Act: Meeting Three Changemakers on March 21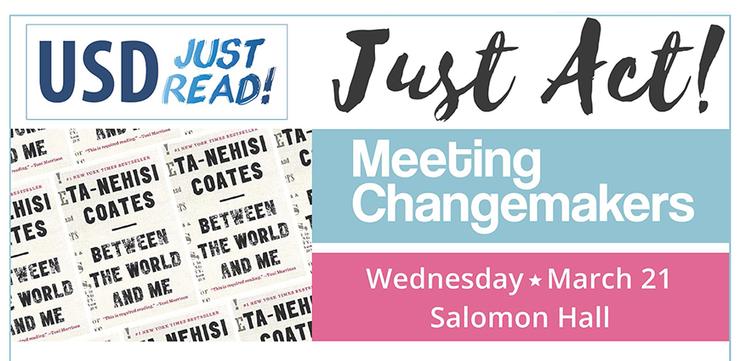 The University of San Diego is providing the campus community with a great opportunity to see, hear and learn from three individuals who comprise the lineup for "Just Act! Meeting Changemakers," which takes place all on Wednesday, March 21 in Maher Hall's Salomon Hall.
Stephanie Brown, a Linda Vista resident, alumna of USD's School of Leadership and Education Sciences' Education Leadership Development Academy, and the principal of Montgomery Middle STEAM Magnet School, will be the first speaker, centering on the topic, "Leadership for Equity in Linda Vista," from 10 to 10:45 a.m. Coffee and snacks will be provided.
Isaias Crow, an international muralist, speaker, author and workshop facilitator for subjects such as introspection, personal development, spiritual well-being, creativity and team building, will be at USD from 12:30-2 p.m. Crow's event is titled, "Social Change and Art: A Workshop on Intention Reminders." A vegan lunch will be served during the event.
The final event of the day brings Harold Green to USD for a spoken word performance and a question-and-answer session from 6 to 7:30 p.m. Pizza will be served. Green is an ever-evolving artist with a skill set that defies categorization. His vibrant storytelling and passionate lyrical delivery has captivated audiences both domestically and internationally. Green is a highly sought after talent as well as a respected band leader and event producer.
The connection between these three March 21 events — each one in Salomon Hall — is that they each support USD's Just Read! program, in which a book is selected for use in classrooms, discussions and events across campus. The program was developed to encourage literacy and deep dialogue on important social themes. The 2017-18 selection of Between the World and Me, written by Ta-Nehisi Coates, aligns with USD's emphasis on social justice, access and inclusion. Coates touches on the concept of race and many issues related to race in America, including slavery, mass incarceration and police brutality, all in the context of a letter written to his son. Programming this academic year for students and faculty has included book discussions, film screenings and education panels.
"As part of this year's programming, Just Act! Meeting Changemakers is a day to bring hope to the discussions of race and social justice created by the featured Just Read! book," says USD Center for Education Excellence Interim Director Anne Koenig, who is also an associate professor in the department of psychological sciences.
"All three speakers demonstrate a personal passion for social justice and provide examples of how individuals can help to make change in the world. We hope they encourage and inspire the USD community to reflect on ways they can advocate for social justice in the world -- whether through their leadership, artistic endeavors or personal inspiration and reflection," Koenig says.
These three events are co-sponsored by the CEE and the USD Changemaker Hub. Both are also among a host of co-sponsors for the Just Read! program, which includes the Center for Inclusion and Diversity, the School of Business, the Mulvaney Center for Community, Awareness and Social Action, the School of Leadership and Education Sciences, the Joan B. Kroc School of Peace Studies and the College of Arts and Sciences.
Learn about other Just Read! events at USD this spring, including a student essay contest connected to the selected book whose entry deadline is April 6.
— Ryan T. Blystone