We Need Your Leadership: Join Associated Students and Serve the USD Community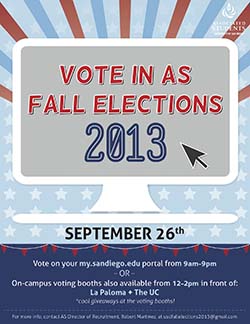 Did you attend the Alcalá Bazaar? Did you check out all the great clubs and organizations you can get involved in? If you did, you might have seen the Associated Students booth. You might be asking yourself, "What is Associated Students?" Well, Associated Students, or AS for short, is USD's undergraduate student government that acts as the voice for the student body, manages the budget created by the undergraduate Student Activities Fee, recognizes and supports student organizations, and promotes opportunities for growth and expression. Associated Students is made up of a leadership team, Senate, and Torero Program Board. Right now there is an opportunity for you to get involved in AS!
The fall elections process has already begun and the open positions available are for Senate. AS is looking for 17 senators to join their team! In order to run for a position you must attend at least one informational session. There will be five information sessions happening up until September 18. At these sessions, you will receive the elections packet filled with important information you will need to know in order to run.
So what exactly does a senator do? AS Senate addresses student issues and works to create a more diverse, inclusive, and engaged community. Senate has bi-weekly meetings where they discuss their constituents' needs and see what they can do to help resolve student issues. There are academic senators and residential senators. The difference between the two is that they reach out to different constituencies. For example, the School of Engineering Senator's constituents would be all the students in the School of Engineering, while the Vistas Senators would be reaching out to all the students living in the Vistas.
As a senator not only do you sit on AS Senate, but you also sit on a subcommittee. The subcommittees within Senate are Academics, Inclusion and Diversity, Student Life, and Student Organizations. As a member of these committees, senators focus on specific topics dealing with academics, inclusion and diversity, student life, and student orgs in order to better USD's campus. For example, last year the Inclusion and Diversity Committee put on USD's first ever dis(Ability) Awareness Week. If this sounds like something you would be interested in be sure to come out to an informational session.
Applications are due Friday, September 20 by 5 p.m., so get to an Information Session! If you have any questions feel free to contact Robert Martinez, Associated Student's director of recruitment, at usdfallelections2013@gmail.com.
Most importantly please vote on the MySanDiego Portal on Thursday, September 26 from 9 a.m. - 9 p.m. Your vote matters – choose who represents you!