Involvement Desk Offers Consultation on Getting Connected at USD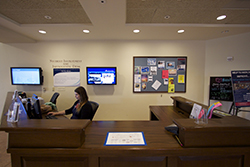 Located on the second level of the Student Life Pavilion, the Student Involvement and Information Desk (SIID) is the best place on campus for all of your questions and concerns about involvement, information and leadership. The SIID provides a wide range of services for any student, faculty or university guest. These services include information about university sponsored events, involvement and leadership opportunities, campus maps, and access to the campus directory.
The student staff at the SIID -- known as Involvement Consultants -- are able to answer general questions about the campus. So, if you ever have any questions about student life at USD, just swing by the SIID and speak to one of the Involvement Consultants! Beyond providing basic interaction, those interested in specific programs and involvement opportunities can work with the Involvement Consultants to get connected to the appropriate area on campus. USD certainly has a wide variety of involvement opportunities, and Involvement Consultants can help undergraduate students navigate the campus community to find the opportunities that best suit each student's passion and personality.
Additionally, the Involvement Consultants are available to meet one on one, and are able to provide consultation or presentations to clubs, organizations, and departments upon request. Involvement Consultants can help student organization leaders learn more about policies and procedures that impact their organization, or help with teambuilding, communication, and more.
The newest feature of the SIID is the outdoor game checkout. Some of the games available include bocce ball, frisbee, jai alai, and more. Grab a few friends – or make some new ones – use your Torero Card to checkout a game for an hour, and enjoy the San Diego sun!
The Student Involvement and Information Desk also sponsors Torero Blue Fridays to increase involvement and Torero pride. Wear USD apparel or blue and stop by the SIID for an awesome treat every Friday. You may even have an opportunity to answer the SIID's "Involvement Question of the Week," featured on the Torero Life website and digital displays throughout the University Center and Student Life Pavilion. Torero Blue Fridays? Maybe we should call it Torero Blue FUNdays! For more information about the Student Involvement and Information Desk features, stop by the desk, or find us on Facebook. Follow us on Twitter too: @USDSIID.