Aaron Gross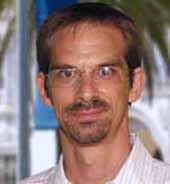 E-mail: aarongross@sandiego.edu
Phone: (619) 260-7412
Featured USD Experts
Aaron Gross
Assistant Professor
Theology & Religious Studies


Aaron Gross joined the faculty in 2009. He is a historian of religions who focuses on modern and contemporary Jewish traditions. His dissertation theorizes the significance of "the question of the animal" for the study of religion and considers contemporary Jewish and South Asian food practices. At USD he is developing a broad array of courses in the study of Jewish traditions exploring the systems of knowledge, forms of expressivity, religious practices, and inter-religious engagements of Jewish communities in different historical periods and geographic regions. He co-chairs the Consultation on Animals and Religion at the American Academy of Religion. He has spent more than two years in South Asia (India, Nepal, Sri Lanka) doing research or nonprofit work.
Gross's research centers on contemporary American Jewish thought and practice (especially food practices) with a comparative interest in South Asian (Jain, Buddhist, Hindu) traditions. Theoretically he focuses on the significance of animals and the category "animal" for the study of religion, with attention to ethical considerations and how thinking about what it means to be human is bound with ideas about animality. His work owes a special debt to the thought of Jacques Derrida.
His essay "The Question of the Creature: Animals, Theology, and Levinas's Dog" recently appeared in the edited volume Creaturely Theology: God, Humans and other Animals (2009). He has a forthcoming edited volume, Animal Others and the Human Imagination, co-edited with anthropologist Anne Valleley. His work has been published in Shofar, the Journal of Central Conference of American Rabbis, and the popular periodical Tikkun Magazine. He is involved in several collaborations with National Jewish book award-winner and bestselling novelist Jonathan Safran Foer.
Gross teaches introductory courses in both world religions and Jewish traditions. While interested in Jewish traditions in all periods, Gross puts a special emphasis on modern and contemporary Jewish thought and practice. In all his courses he emphasizes religion in the everyday, comparative approaches, how religions produce meaning, ethics, and the theoretical basis for the academic study of religion. His teaching interests include courses that are oriented around particular theoretical questions or themes, such as theory and method in the study of religion, issues in comparative religion, religion and critical theory, religious hermeneutics, religion and animals, religion and subjectivity, and comparative religious ethics.
Educational Background
PhD, candidate, University of California, Santa Barbara; Religious Studies
MTh, Harvard Divinity School