Susan Instone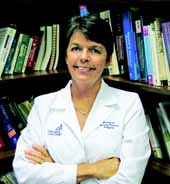 E-mail: sinstone@sandiego.edu
Phone: (619)260-4575
Featured USD Experts
Susan Instone
Professor
School of Nursing
Director of Advanced Practice Nursing Programs

Susan Instone, Professor in Nursing, is the Director of the Doctor of Nursing Practice - Advanced Practice Nursing Program.
She completed her MSN degree (1989) and Doctor of Nursing Science degree (1996) at the University of San Diego. She is a certified Pediatric Nurse Practitioner by the Pediatric National Certification Board and currently practices part-time in pediatric primary care.
Dr. Instone teaches in the DNP program. Her research interests include decision-making among children and parents with life threatening illness such as HIV/AIDS or Hepatitis C and the use of standardized patients to improve clinical competencies among advanced practice nursing students.
Educational Background
DNSc, Nursing Science, University of San Diego
MSN, Pediatric Nurse Practitioner, University of San Diego
BSN, Nursing, Mary Manse College
Publications
Instone, S.L. (2000). Perceptions of children with HIV Infection when not told for so long: implications for diagnosis disclosure. Journal of Pediatric Health Care , 14(4) 235-243
Instone, S.L. (2002). Developmental strategies for interviewing children. Journal of Pediatric Health Care , 16(6), 304-305
Thurkettle, M.A., James, K., & Instone, S. (2002) Healthcare Utilization and stress management patterns in a college population. In Brief: Abstracts. American Journal of Health Promotion , 16 (6), 365-366.
Instone, S.L., Gilbert, T.L., & Mueller, M.R. (2003). Barriers to HCV testing: A decade of Lessons learned. Policy, Politics, and Nursing Practice , 4(4), 288-294.
Mueller, M.R., & Instone, S.L. (Fall-Winter 2005-2006). Illness trajectory, the diagnostic discovery of hepatitis C disease, and "The Accidental Tourist." Journal of Applied and Clinical Sociology , 22 (2), 1-12
Mueller, M.R., & Instone, S. (2008). Beyond the informed consent procedure: Continuing consent in human research. Science and Collective Health 13,2, 381-389
Instone, S.L., Mueller, M.R., & Gilbert, T.L. (2008). Therapeutic discourse among nurses and physicians in placebo controlled clinical trials. Nursing Ethics , 15 (6), 803-812.
Chen, J.Y. & Instone, S.L. (2009). Functioning and resiliency in families with children with Duchenne Muscular Dystrophy, VDM Verlag, Saarbrucken, Germany.
Instone, S.L. & Mueller, M.R. (2009). Religious influences on the reproductive health decisions of HIV-positive Latinas on the Border. Journal of Religion and Health.