Eric Page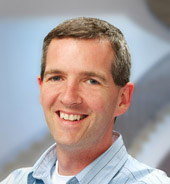 E-mail: epage@sandiego.edu
Phone: (619) 260-8865
Featured USD Experts
Eric Page
Assistant Professor
Physics


Eric J. Page, Ph.D., joined the USD faculty in the fall of 2006. Page teaches across the entire physics curriculum with focuses in introductory physics for bioscience and pre-health students as well as biological and optical physics. His research focus is split in two areas, biophotonics, where Page investigates the interaction of light with biological materials and physics education research where he investigates epistemology and educational technologies in physics. His thesis work focused on the intersection of gravitational and optical physics as well as physics education research.
Page splits his research time between two distinct areas; biophotonics and physics education research. His research in biophotonics is centered on the use of a new class of optical fibers known as photonic crystal fibers and their applications in biological physics. Specifically, Page is investigating the sensitivity to which this system may be used to detect changes in protein conformation and activity. His research in physics education focuses on how students learn and interpret physics. Specifically, Page is currently comparing how students at different levels of physics courses interpret similar questions and problems. To aid in this work, Page has developed unique ways of incorporating student crested wikis into these courses.
Page has taught a variety of courses at USD including both introductory and upper-division courses. Recently he has focused on USD's introductory physics courses designed primarily for bioscience and pre-health students, incorporating successful results from physics education reform including guided inquiry methods and technological advances such as personal response systems and online student interaction techniques. In addition, Page has recently taught Physics for K-8 Educators and Analytical Mechanics and is currently developing a preceptorial course on Physics and Society (Energy and the Environment) and an upper-division course on biological physics.
Educational Background
PhD, Physics, University of Rochester
MA, Physics, University of Rochester
BS, Physics, Worcester Polytechnic Institute
BS, Humanities and Arts (Music Concentration), Worcester Polytechnic Institute