Vidya Nadkarni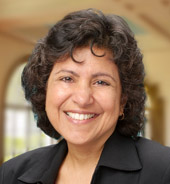 E-mail: nadkarni@SanDiego.edu
Phone: (619) 260-4010
Featured USD Experts
Vidya Nadkarni
Professor
Political Science
Foreign Policies of resurgent & global power

Vidya Nadkarni, Ph.D., joined USD's faculty in 1990. Nadkarni teaches courses in the area of international relations and foreign policy. Her research interests center on the foreign policies of resurgent (Russia) and aspiring (China, India) global powers.
Nadkarni has published in the journals Comparative Strategy and The Naval War College Review and has contributed chapters to several edited books. Her book Strategic Partnerships in Asia: Balancing without Alliances is forthcoming from Routledge Press in 2009. She has also contributed two article-length essays (one of them co-authored with Michael Williams, Ph.D.) to the International Studies Association's peer-reviewed Compendium volumes to be published by Wiley-Blackwell in 2009.
Nadkarni teaches the introductory course in international relations every Fall semester and also offers upper-division and graduate-level courses in international relations theory, American foreign policy, and Russian politics and foreign policy. She has taught in USD's preceptorial program for entering freshmen for almost two decades and has enjoyed her role in mentoring incoming students year after year.
Educational Background
PhD, Political Science, University of British Colombia
MA, International, Studies, Jawaharlal Nehru University, New Delhi
BA (with Honors), History, St. Xavier's College, University of Bombay