Esteban del Río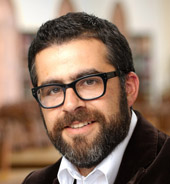 E-mail: edelrio@sandiego.edu
Phone: (619)260-7464
Featured USD Experts
Esteban del Río
Assistant Professor
Communication Studies
Media and Cultural Studies
Journalism and Popular Culture Criticism, Conflict
Esteban del Rio is an assistant professor in the Department of Communication Studies at the University of San Diego. He earned a PhD in the Department of Communication at the University of Massachusetts Amherst. A media and cultural studies scholar, del Rio's research examines how meaning and power operate in situations of ideological conflict in transnational public and popular culture. His current work focuses on Latino media studies and the representation of dissent. He teaches Introduction to Media Studies, Media and Conflict, and International Media.
His work appears in Communication Yearbook, Communication Culture Critique, Participations: International Journal of Audience Research, and Flow. His published writing includes: empirical qualitative audience studies of Latinidad, cultural capital, and satire; writings on television, international film, and sustainability discourses; and a summative and agenda-setting piece on the field Latino media studies titled 'The Latina/o Problematic: Categories and Questions in Media Communication Research.'
Currently, del Rio is writing a theory piece on the tensions between appropriation and authenticity of Latinidad in documentary and journalistic manifestations of popular culture texts. He is also working on another project examining the representational tensions between journalists and protesters in immigration debates. He serves on the editorial board for Communication Yearbook, and is active as a presenter and participant in the International Communication Association and the National Communication Association.
del Rio teaches a variety of courses in media and cultural studies. Among his teaching awards, he was voted Professor of the Year in the College of Arts and Sciences by three graduating classes. His teaching encourages students to raise questions in the spirit of hope and possibility. Communication, in these discussions, is understood as the primary social process inexorably linking symbolic systems and the material world. del Rio grounds his teaching in the liberal arts tradition of freedom and accountability, and relies on the Socratic method as a proven foundation for learning, inquiry, and critique. An active member of the campus community, del Rio has worked on committees developing the Ethnic Studies and Latin American Studies curricula, serves as a faculty member for Student Support Services Summer Bridge course, and as a Faculty-in-Residence.
Educational Background
PhD, Communication, University of Massachusetts Amherst
BA, History, University of San Diego