Rachel Blaser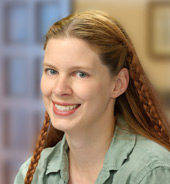 E-mail: rblaser@sandiego.edu
Featured USD Experts
Rachel Blaser
Assistant Professor
Psychological Sciences
Comparative Psychology
Learning and Behavior in Invertebrates and Fish
Rachel Blaser is a Wayne, Nebraska native, but began her course work at Reed College in Portland Oregon, and finished her graduate studies at the University of Hawaii, Manoa. Rachel has published many works in her field.
Educational Background
PhD, University of Hawaii
MA, University of Hawaii
BA, Reed College
Publications
Blaser, R.E., Couvillon, P.A., and Bitterman, M.E. (2008). " Within-subjects experiments on blocking and facilitation in honeybees (Apis mellifera)." Journal of Comparative Psychology , 122 (4), 373-378.

Gerlai, R., Lee, V., & Blaser, R. (2006). " Effects of acute and chronic ethanol exposure on the behavior of adult zebrafish (Danio rerio)." Pharmacology, Biochemistry and Behavior , 85 (4), 752-761.

Blaser, R., and Gerlai, R. (2006). "Behavioral Phenotyping in Zebra fish: Comparison of three behavioral quantification methods." Behavior Research Methods , 38 (3), 456-469.

Blaser, R.E., Couvillon, P.A., and Bitterman, M.E. (2006). "Blocking and Pseudoblocking: New Control Experiments with honeybees." Quarterly Journal of Experimental Psychology , 59 (1) 68-76.