Lauren Benz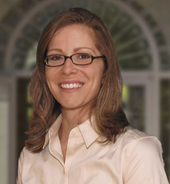 E-mail: laurenbenz@sandiego.edu
Phone: (619) 260- 4117
Featured USD Experts
Lauren Benz
Assistant Professor
Chemistry and Biochemistry
Inorganic Chemistry
Surface Chemistry
Lauren Benz, a native of the town of Coventry, Rhode Island, stuck to her roots and attended the University of Rhode Island. There she earned a BSc in chemistry. Following her undergraduate work at the University of Rhode Island, Benz took a one year hiatus from her scholarly work and took to industry work and began a career at Pfizer. There Benz worked on the development of a drug used especially for the treatment of schizophrenia.
After a year of working in the field, Benz decided to head west to the University of California, Santa Barbara where she earned a PhD in inorganic chemistry. She was appointed as a Clare Boothe Luce professor in the Department of Chemistry and Biochemistry in 2009, where she currently teaches general and inorganic chemistry and continues her studies of surface chemistry with undergraduate students.
In her research, Dr. Benz uses a variety of techniques to investigate reactions on surfaces. Currently, she is interested in probing the adsorptive and reactive properties of surface-supported metal organic frameworks. The goal of this project is to investigate the use of supported nanoporous frameworks for gas storage and pollution remediation. Also of interest to the Benz group is the chemical reactivity and catalytic properties of supported nanoclusters and nanostructures, including metals, oxides, and mixed systems.
Educational Background
Postdoctoral work, Department of Chemistry and Chemical Biology, Harvard University
PhD, Inorganic Chemistry, University of California, Santa Barbara
BSc, University of Rhode Island
Publications
J. Haubrich, R. G. Quiller, L. Benz, Z. Liu, and C. M. Friend, Langmuir. "In-situ ambient pressure studies of the chemistry of NO2 and water on rutile TiO2(110)." 26 (4), 2445, (2010).
R. G. Quiller, L. Benz, J. Haubrich, M. E. Colling and C. M. Friend. "Surface chemistry of organic pollutants: styrene, ozone, and water on TiO2(110)." J. Phys. Chem. C , 113 (6), 2063 (2009).
S. K. Buratto, M. T. Bowers, H. Metiu, M. Manard, X. Tong, L. Benz, P. Kemper and S. Chrétien. "Aun and Agn (n= 1-8) Nanocluster Catalysts: Gas Phase Reactivity to Deposited Structures." Chapter 4 in The Chemical Physics of Solid Surfaces and Heterogeneous Catalysis , v. 12, Ed. D.P. Woodruff, NY, 151 (2006).
X. Tong, L. Benz, S. Chrétien, M.T. Bowers, and S.K. Buratto. "Direct Visualization of Water-induced Relocation of Au atoms from Oxygen Vacancies on a TiO2(110) Surface." Physical Chemistry , 114, 3987, (2010).