David Pyke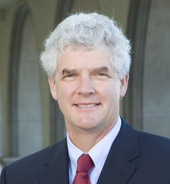 E-mail: davidpyke@sandiego.edu
Phone: (619)260-4886
Featured USD Experts
David Pyke
Dean
School of Business Administration
Administration; Operations Management
Supply Chain Management; Operations in China
David Pyke, a Haverford College alum, received his BA in 1976 and went on to earn an MBA from Drexel University. Following these accomplishments, Pyke continued on to also earn an additional MA. and a PhD from the Wharton School of the University of Pennsylvania. Pyke has made major research contributions in inventory models, production planning and scheduling, and global operations and supply chain management.
Currently, David Pyke is the Dean of the School of Business Administration at the University of San Diego. Formerly, he was professor of Operations Management, and Associate Dean at the Amos Tuck School of Business Administration at Dartmouth College. Pyke's book, Inventory Management and Production Planning and Scheduling, is used in numerous PhD programs worldwide. He has taught at the International University of Japan, the Helsinki School of Economics and the WHU - Otto-Beisheim-Hochschule, Vallendar, Germany. He has consulted for companies such as The Rand Corporation, DHL, Home Depot, among others. He serves on the Board of Directors for various companies, such as the Lwala Community Alliance, a nonprofit focused on community development in Kenya.
Educational Background
PhD, Decision Sciences, University of Pennsylvania, The Wharton School
MA, University of Pennsylvania, The Wharton School
MBA, Management Analysis, Drexel University
BA, Sociology, Haverford College
Publications
Inventory Management and Production Planning and Scheduling . Third Edition (with Edward A. Silver and Rein Peterson). John Wiley & Sons, 1998.
"Shanghai or Charlotte? The Decision to Outsource to China and Other Low Cost Countries," Chapter 3 in Supply Chain Excellence in Emerging Economies . Springer-Verlag, eds. Chung-Yee Lee and Hau L. Lee, 2007.
"Static and Dynamic Pricing of Excess Capacity in a Make-To-Order Environment," with Joseph M. Hall and Praveen K. Kopalle. Production and Operations Management , 18(4), 411-425, July-August, 2009.
"Sales & Operations Planning: An Exploratory Study and Framework," with J. Andrew Grimson, The International Journal of Logistics Management , 18 (3), 322-346, 2007.