Susannah Stern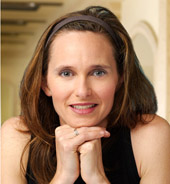 E-mail: susannahstern@sandiego.edu
Phone: (619)260-7814
Featured USD Experts
Susannah Stern
Associate Professor
Communication/A&S
Media Uses & Effects
Children and Teens & Gender
Professor Stern joined the Department of Communication Studies in 2004. Currently at the University of San Diego, Dr. Stern offers courses that investigate the role of media in contemporary life, particularly as they involve children, adolescents, and women, as well as courses on research methods. Dr. Stern's research focuses on electronic media and youth culture, and she has conducted extensive research on the Internet as a site for cultural consumption and self-expression. Dr. Stern's work has appeared in a variety of peer-reviewed journals and edited collections, and she is regularly interviewed by the popular press about young people's Internet use.
Stern's teaching interests include media culture and effects, children and adolescents, and research methods. She teaches a variety of media-related courses, including Introduction to Media Studies, Media Processes and Effects, Children and Media, Teens and Pop Culture, and methods classes including Interpretive Research Methods and Communication Investigations. Stern has also taught preceptorial courses, honors courses, and recently team-taught an honors course in Spring 2010, entitled "Constructing Motherhood."
Educational Background
PhD, Mass Communication, University of North Carolina-Chapel Hill
MA, Communication, University of Washington-Seattle
BS, Communication Studies Northwestern University
Publications
Brown, J.D., Keller, S., & Stern, S (2009). "Sex, Sexuality, Sexting, and SexEd: Adolescents & the Media." Prevention Researcher , 16(4), 3-6.
Stern, S. (2008). "Girls as Internet Producers and Consumers: The Need to Place Girls' Studies in the Public Eye." Journal of Children and Media , 2(1), 85-86.
Stern, S. & Brown, J.D. (2008). "From Twin Beds to Sex at your Fingertips: Teen Sexuality in Movies, Music, Television and the Internet (1950-2005)." In D. Romer and P. Jamieson (Eds.) The Changing Portrayal of Youth in the Media and Why it Matters , pp.313-346. Oxford University Press.
Stern, S. (2008). "How Do Various Notions of Privacy Influence Decisions in Qualitative Internet Research?" In. A. Markham & N. Baym (Eds.) Internet Inquiry: Dialogue Among Researchers. Thousand Oaks, CA: Sage.