Undergrad, Grad Students Feted at UFMC's 13th Annual Diversity Banquet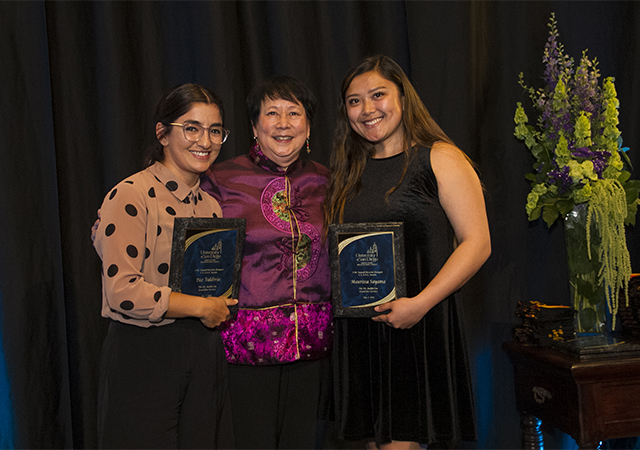 The United Front Multicultural Center's 13th annual Diversity Banquet, held Wednesday night in the Hahn University Center Forums, continued its fine tradition of recognizing excellence among undergrad and graduate students across campus.
And, for the first time in the event's history, there was double the student success to celebrate. That's because each of the six C.L.A.S.S. award categories honored both a University of San Diego undergraduate student and a graduate student.
Joshua Coyne, assistant director for Associated Students at USD's Office of Student Leadership, Involvement and Changemaking, presented the L. Reuben Mitchell Award for Campus Wide Impact to Alessandra Cole (undergrad) and Tanisha-Jean Martin (grad).
Theology and Religious Studies Professor Evelyn Kirkley, PhD, announced the winners of an award named in her honor, the Dr. Evelyn Kirkley Award for Leadership, to Jhonnatan Chinchilla (undergrad) and Rama Sabano (grad).
The Dr. Joseph Colombo Award for Academics went to two very deserving students. Theology and Religious Studies Professor Maria Pilar Aquino, PhD, announced the winners as Laura Becerra (undergrad) and Andrea Dame (grad).
Maria Silva, Director of Neighborhood and Community Engaged Partnerships in USD's Mulvaney Center for Community, Action and Social Action, presented the Dr. Judy Rauner Award for Social Justice to Christopher Harrop (undergrad) and Amber Williams (grad).
Sociology Professor Judith Liu honored two terrific students for the Dr. Judith Liu Award for Service in Maurissa Sayama (undergrad) and Paz Valdivia (grad).
The United Front Multicultural Center Award for Inspiration had two fine recipients. Introduced by UFMC Program Coordinator Annie Guanciale, this year's honorees were Debby Romero (undergrad) and Linh Nguyen (grad).
The awards are just one part of a wonderful evening put together by UFMC Director Mayte Perez Franco, her staff and students, including the evening's co-hosts, Danny Rodriguez and Leslie Martinez.
Perez Franco welcomed the audience to the event and introduced a photo slideshow featuring 64 students in USD's Class of 2018 (undergraduate, graduate and law students). Dinner followed and then Sociology Professor Greg Prieto, PhD, gave an impassioned keynote talk. After C.L.A.S.S. Awards were issued, all graduating students were called to the stage and presented with traditional and meaningful UFMC stoles to be worn at graduation ceremonies this month.
The event closed with an inspired set of dances performed by one of the newest student clubs on campus, USD Pataka. The organization, which last week received the New and Emerging Student Organization Award at the Student Org Awards event, is led by Riya Pandit. She and fellow club members comprise USD's first all-inclusive Bollywood Dance team.
— Ryan T. Blystone