April 26 V2 Pitch Competition to Showcase USD's Thriving Entrepreneurship Culture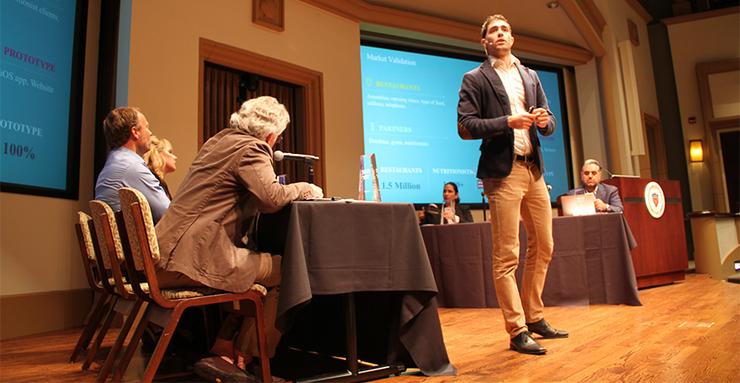 Entrepreneurship is alive and well on the University of San Diego campus. It is so well-connected that it has quite a reputation and a strong following internationally, too. This Thursday evening, one of USD's traditionally fine examples of this thriving entrepreneurship culture at USD will celebrate during its seventh annual event.
The Venture Vetting (V2) Pitch Competition, dubbed, "Shark Tank meets Academia," occurs this year on April 26 at the Joan B. Kroc Institute for Peace and Justice, starting at 5 p.m.
Founded by Michael Lawless, Clinical Professor of Management in USD's School of Business and the Academic Director of Entrepreneurship Initiatives, and put together by School of Business Entrepreneurship Manager Regina Bernal, V2 is a model for solid business entrepreneurship and entrepreneurship education.
Starting with a showcase for non-finalist student business ventures at 5 p.m. in the IPJ's Garden of the Sky area as well as a sneak preview of the six finalists— three USD student teams and three Latin American student teams — in the IPJ Rotunda area, the main program begins in the IPJ Theatre at 6 p.m.
This year's group of finalists, who are vying for $30,000 in seed money and in-kind services, emerged from a strong group of entries, both among USD and from Mexico universities. For the second straight year, the V2 program will include a pitch finalist from Uruguay.
Here's a closer look at the 2018 V2 finalists:
USD Teams
Kingery Works is a fine jewelry and lifestyle brand inspired by the culture of motorcycles, surfing, and the individuals who surround it. Kingery Works first started in the garage, emphasizing quality and creativity over quantity striving to bring awareness to hand craftsmanship. The pitch will be given by Nelson Kingery, an undergraduate business student.
Picket is an innovative new lawnmower that makes lawn care quieter, cleaner and easier than ever. Picket's oscillating blade design and energy-efficient battery make it more eco-friendly and user-friendly than traditional lawnmowers. Its lightweight, slim form factor allows Picket to be easily integrated into a landscaping company, a shareable marketplace, or a household of any size. This pitch will be given by Austin Hirsh and Sydney Reiners, both of whom are mechanical engineers in the Shiley-Marcos School of Engineering.
Generations is a service platform that allows stay-at-home moms the opportunity to build their own profitable business, assisting home-bound seniors. They can provide transportation, shopping trips, home-cooked meals, companionship, etc. Technology is leveraged for fundraising and links together these two underserved populations. The pitch will be given by Janaira Quigley, a current student in the School of Business' Master of Science in Global Leadership (MSGL).
Latin America Teams
INT ID is a smart lock that allows granting accesses through the INT ID wallet (Blockchain). It can be done remotely, enabling the user to send individual access with time restriction, implementing digital signatures (Bitcoin Protocol) which are fast and secure, making this an internet of things device. The pitch will be given by Rubén Sepulveda, a student at Tecnológico de Tijuana.
Therapsy is a service that allows people to receive online therapy for mental health issues by mental health professionals. The pitch for Therapsy will be given by Perla Medina, who is a student at UABC.
CityCop is a social platform for community watch that enables you to fight crime and protect yourself and your loved ones. You can actively report crimes in your community and receive real-time information of what is happening in the areas you care about most. The pitch will be given by students from ORT University of Uruguay.
Following the student pitches to a panel of distinguished angel investors (three for USD teams and three for Latin America teams), at approximately 7:15 p.m., each finalist will have a one-on-one meeting with their trio of angel investors who can ask additional questions. The public is invited to attend and listen in on these conversations. After the meetings, the angel investors meet in private to determine how funds will be distributed to the respective entrepreneurs.
It is free to attend the V2 Pitch Competition and it is open to the public, but all audience members must RSVP online. For more information about all things USD Entrepreneurship, go to its website.
— Compiled by USD News Center