Torero Athletics: Softball Enters WCC Play with Confidence; Spring Sports Roundup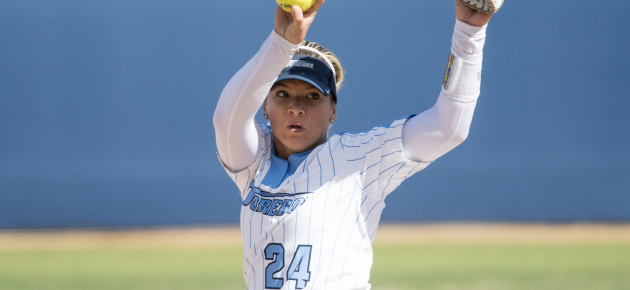 As the calendar turns to April and West Coast Conference play looms this coming weekend, the USD softball team sent March out with a pair of confidence-boosting wins, defeating San Diego State March 27 on the road and then topping UC Santa Barbara the next day at home.
The wins give USD a 21-15 overall record heading into a week in which they'll have one additional tune-up game, at home Tuesday against UNLV, followed by hosting Saint Mary's in a three-game series Saturday (doubleheader) and Sunday.
Against San Diego State, the Toreros got a strong effort from pitcher Hannah Boos and a clutch home run by pinch-hitter Emili Olague in a 4-2 nonconference victory. Boos (8-2) held the Aztecs to two runs on six hits, six strikeouts and no walks in six innings. Delaney Heller struck out the side in the seventh for her fourth save. Olague's home run, a two-run shot, came in the third inning. Halle Kyler and Katie Vretzos each had two hits. Kyler had an RBI single and Taylor Spence added an RBI double for a 4-0 lead.
In the 4-1 win against Santa Barbara, Lindsay Clare's home run in the second inning was part of a team effort to record the victory. Five Toreros had a hit and four different players scored a run. Kyler got the start at pitcher and went 3 2/3 innings, giving up no runs, three hits, two walks and two strikeouts. Heller finished the game and got the victory, yielding the lone UCSB run, two hits, two walks and a strikeout. Heller improved her record to 8-6.
Next Games: USD hosts UNLV, Tuesday, USD Softball Complex, 2 p.m.; USD hosts Saint Mary's, Saturday, doubleheader, 12 and 2 p.m.; USD hosts Saint Mary's, Sunday, USD Softball Complex, noon.
The USD men's tennis team remained perfect in West Coast Conference action with a 4-2 home victory over BYU on March 31.
The Toreros won the doubles point on the strength of wins by the teams of Joel Gamerov-August Holmgren and Nico Borter-Pratt Keerasuntonpong. When the match turned to singles competition, USD got wins from Gamerov, Alexandros Araouzos and the clinching point from David Norfeldt.
USD improved to 9-7 overall and 3-0 in WCC play with two more WCC matches — both on the road — later this week.
Next Matches: USD Men's Tennis at San Francisco, Saturday, 1 p.m.; USD at Santa Clara, Sunday, 1 p.m.
The ending of a seven-game Northern California road trip ended on a positive note. The Torero baseball team took its longest break from Fowler Park over the last two weeks, playing a West Coast Conference road series at Pacific, a solo game at Stanford and then finished with a WCC weekend series at San Francisco. The result was a 3-4 mark and that doesn't include a loss at Cal State Fullerton to begin the road trek.
On March 31, the final game of the trip, USD freshman pitcher Gabriel Ponce (5.1 innings) and junior lefty Anthony Donatella (3.2) combined to shutout the Dons, 5-0, to salvage the finale of the three-game West Coast Conference series. Offensively, the Toreros got a two-run double by Shane McGuire, an RBi double by Adam Kerner, an RBi single by Connor Doyle and Paul Kunst's groundout scored Kevin Collard.
Prior to that game, San Francisco topped USD 8-4 on March 29 and then 4-2 on March 30.
In the series opener, the Toreros were stymied by the Dons' top starting pitcher, Thomas Ponticelli. Meanwhile, USD starter Paul Richan allowed five runs through the first six innings. USD's offense was paced by Daniel Gardner's two-run homer in the seventh inning and McGuire had three hits. Gardner and Collard each had two for USD.
On March 30, the Toreros turned to starting pitcher Chris Murphy and he went five innings, allowing three runs, five hits and struck out eight. Offensively, Gardner had an RBI double and Tora Otsuka had an RBI single.
Next Games: USD Baseball hosts UC Irvine, Tuesday, Fowler Park, 6 p.m.; USD Baseball hosts Loyola Marymount, April 6-7-8, Fowler Park, 6 p.m., 5 p.m., 1 p.m.
The USD women's tennis team won a nonconference home match 4-0 against San Jose State on March 28, but in West Coast Conference play, the Toreros fell 4-2 in a road loss to BYU on March 31.
The shutout win over SJSU was the Toreros' third shutout victory this season. The team won the doubles point with victories by Nicole Anderson-Daniela Morales and Maria-Paula Torres-Sophia Chow. In singles play, Gemma Garcia, Morales and Carolin Nonnenmacher scored victories to complete the sweep.
A few days later in Provo, Utah, the Toreros didn't fare as well against the host Cougars. BYU won the doubles point, although USD's team of Garcia and Nonnenmacher did win their match before BYU earned the clinching match. In singles action, USD's points came on victories by Torres and Morales.
The loss dropped USD's record to 8-8 overall, 1-4 in WCC play. USD will have a similar schedule this week with one nonconference match, followed by a WCC match. Both are at home.
Next Matches: USD women's tennis hosts Long Beach State, Friday, Skip and Cindy Hogan Tennis Center at USD, 1:30 p.m.; USD hosts San Francisco, Saturday, Hogan Tennis Center at USD, 11 a.m.
The USD men's golf team is competing in the 54-hole Redhawk Invitational today and Tuesday at Chambers Bay Golf Course in University Place, Washington. The Toreros are looking at this tournament as another step in their preparation for the West Coast Conference Championship tournament, scheduled for April 16-18.
The USD women's track team, consisting primarily of distance runners, shined bright at the California Collegiate Open on March 31 in La Jolla, Calif. Hannah Rasmussen raced to a victory in the 1500 meters with a time of 4 minutes, 37.12 seconds, while Sera Parvin and Kate Kohler won their respective heats of the 800.
Freshman Rasmussen was the sole Torero to compete in the second heat for the 800 race, where she posted a time of 2:17.48 to earn second place. In the third 800 heat, Toreros Parvin (2:20.88) and Cassidy Kuhn (2:22.34) took first and second, respectively. Parvin's time was her personal best. Cammy Manes (2:25.65) followed closely behind, placing fourth.
Five USD women competed in the fourth heat of the 800. Kohler (2:20.67), Zani Moore (2:22.21) and Jessica Ong (2:22.43) took the first three finishes. Kohler and Moore both posted their personal best times.
Toreros exemplified teamwork in the 5,000-meter race, with Madison Lambros (17:46.84) and Julie Giannini (17:53.37) working together to successful races.
For all USD Athletics news, scores and information, visit the website and follow the Toreros on social media platforms: Facebook, Twitter and Instagram.