Torero Business Students Win GEICO Achievement Awards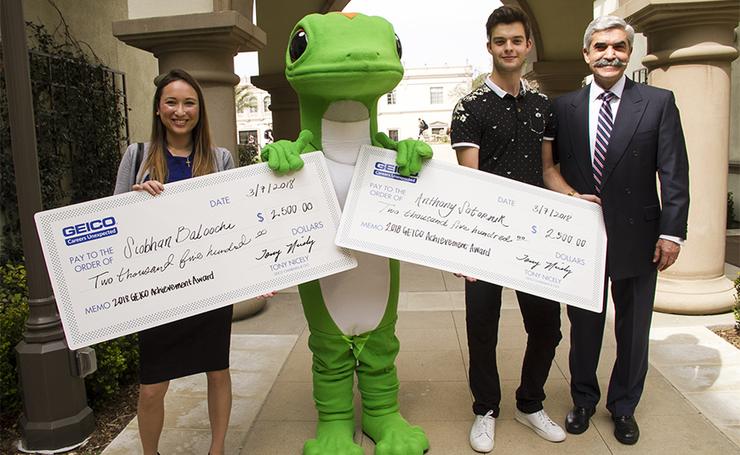 The University of San Diego, Career Development Center and national insurance company GEICO on Wednesday celebrated two USD School of Business students, Siobhan Baloochi and Tony Sotornik, who've been named as 2018 GEICO Achievement Award winners.
The awards, presented by GEICO, are each $2,500 for Baloochi and Sotornik, and are in recognition of their dedication to academic success, leadership and service. Best of all, of all national recipients they were the only two San Diego university students to earn this distinction and two of only three in California to receive it.
"I'm very grateful," said Sotornik, a second-year student from San Diego who is planning to double major in international business and finance and minor in Chinese. He speaks four languages — Mandarin, Czech, Slovak and English — and is a member of USD's Student International Business Council. He heard about the achievement award by speaking to a GEICO representative who was on campus.
Baloochi is a junior accountancy major who is originally from West Virginia but came to San Diego in 2009. She transferred to USD from San Diego Mesa College. Baloochi is a member of USD's Accounting Society and serves as the secretary of the San Diego Mountain Biking Association. She did an internship with Deloitte this past year and is expected to intern again this summer with the company in its taxation division. She is currently taking the spring semester off from USD to attend to a personal matter.
Baloochi said she learned about the GEICO award through the Career Development Center and heard more about the application process from fellow Torero and 2017 GEICO award recipient, Stephanie Hidalgo, before applying this year.
"I had seen it and thought it was an amazing thing," Baloochi said. "I met Stephanie in a leadership class and I asked her about it. It was also helpful to get the email from the Career Center. They're really good about sending out emails to let us know about these opportunities."
Both students praised their USD education, spoke highly of faculty members who've been instrumental in their early college success and favorably appreciated USD's resources in helping with their personal and professional development. Gaining the GEICO Achievement Award, Baloochi said, will help with her school tuition expenses. Sotornik will likely do the same, but indicated that he'd also like to use some to support an organization that he started in high school that helps children with Asperger's syndrome.
The awards presentation with Career Development Center employees and GEICO representatives also included friends and family members of the recipients, a GEICO gecko mascot and School of Business Dean Jaime Gomez.
— Ryan T. Blystone