Valiant Effort, but USD Women's Basketball Falls to Gonzaga in WCC Tournament Title Game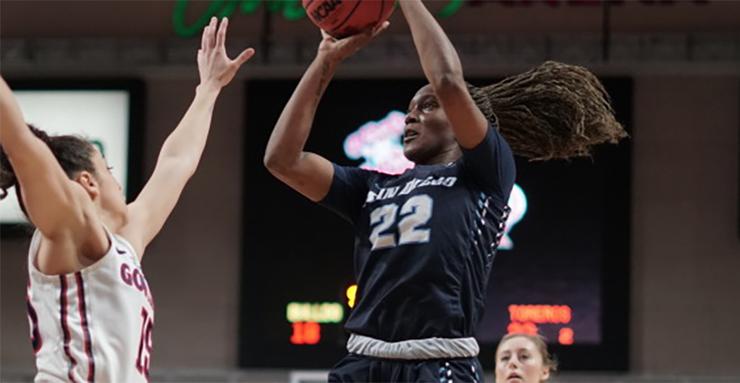 Maya Hood scored a team-high 23 points but San Diego's women's basketball team could not slow down a prolific Gonzaga offense in a 79-71 defeat in the WCC Tournament championship game Tuesday afternoon in Las Vegas.
In potentially the final game of her collegiate career, Hood played all 40 minutes and posted a double-double with 23 points and 11 rebounds. She was one point shy of her season-high of 24 and tied her season high in assists with four.
Hood was named to the WCC All-Tournament team for her standout play. Over three games, she averaged 14.7 points, 9.0 rebounds, and 37.3 minutes, and shot 55.6 percent from the field.
"Maya Hood is just a soldier," said head coach Cindy Fisher. "She keeps fighting and keeps fighting. I'm very proud and happy they acknowledged her on the all-tournament team because she truly is a warrior and is everything that USD basketball stands for."
The Toreros (17-15) offense started hot, but could not keep pace with the Bulldogs', especially WCC Player of the Year, Jill Barta, who scored a game-high 32 points with eight rebounds.
Gonzaga shot 51 percent for the game, including a 44 percent (7-for-16) clip from three-point range. USD shot 53 percent in the first half but cooled off in the second and finished at 44 percent. The Toreros attempted just five three-pointers to the Bulldogs' 16 and converted only one. USD was successful driving the ball inside and getting to the free-throw line, hitting 16-of-19 from the line.
Four Toreros players scored in double-digits, led by Hood's 23, followed by Sydney Williams, who scored 20 points for the second straight game. Aubrey Ward-El and Myah Pace each had 10.
"I thought she had an absolutely phenomenal tournament," said Fisher regarding Williams' play. "She put it all out there this weekend. She gave every ounce of energy. I said leaving the locker room before the game, 'Don't have any regrets, make sure you come in here feeling like you gave it all,' and I know that kid believes that. She can look in the mirror tonight and say she did everything she could. She had an excellent tournament."
Both teams got off to a hot start and the Toreros hit seven of its first 11 shots to take an early 15-13 lead in the first quarter. USD finished the quarter 12-for-19 from the field, led by nine points from Williams, and the Toreros held a 25-20 lead.
USD ran into trouble in the second quarter, as the Bulldogs reeled off a 13-0 run midway through the period to retake the lead, 37-33.
"We started off the game really strong and in that second quarter we just had a little bit of a lapse," said Hood. "We got ourselves in a bit of too much of a hole and then Jill Barta got away from us."
USD responded with a 7-0 run to halt the Bulldogs rally and take a 40-39 advantage.
That was the last lead the Toreros held as Gonzaga finished the half on a 6-0 run to take a 45-40 halftime lead.
USD struggled shooting from the field in the third quarter which allowed the Bulldogs to extend their lead. The Toreros went 1-for-12 in the quarter and endured a four-and-a-half-minute scoreless stretch midway through the period.
With shots not falling, USD muscled the ball inside and did well to draw contact and get to the free-throw line. The Toreros went 8-for-10 from the line to keep the game within reach but faced a 61-50 deficit going into the final quarter.
Gonzaga stretched its lead to 16 points midway through the fourth but the Toreros would not go away. A jumper by Ward-El at 2:43 reduced the Bulldogs' lead to single-digits, 73-64, and a three-pointer by Williams with 37 seconds remaining made it a six-point game, 75-69.
After a pair of Gonzaga free throws, Alexandria Young converted a layup to pull the Toreros back to within six with 25 seconds on the clock.
The Bulldogs continued to hit their free throws and the Toreros were unable to cut into the deficit any further.
"At the end, we had a really really great fight," said Hood. "If we had a little more time, I think we definitely would've came back and gotten right back in that game but I'm really proud of this team."
The future remains bright for the Toreros, which expect to return 10 players and welcome a talented incoming freshman class.
"When you make a run like this — the culture it brings, the feeling that it brings, the chemistry it brings to your team — all those young players know now what it feels like to make it to a championship game," said Fisher.
Gonzaga's win was its eighth in 13 WCC Tournament title game appearances. The Bulldogs (27-5) earned the WCC's automatic berth into the upcoming NCAA Tournament. San Diego made its sixth WCC title game appearance and is now 3-3 in the championship game, last winning it in 2008.
— USD Athletics