Torero Athletics: Golfer ties for Medalist Honors; Sports Roundup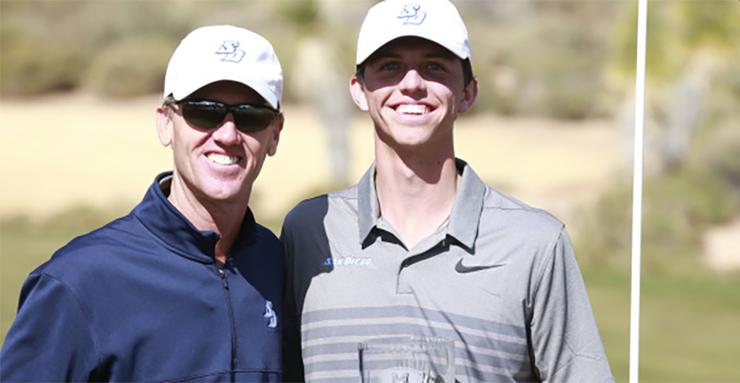 Sophomore Dalton Hankamer tied for medalist honors with two players from Michigan at the Desert Mountain Intercollegiate played at Desert Mountain's Outlaw Course (par 72, yardage 7,107 yards) in Scottsdale, Ariz., last weekend.
Hankamer carded rounds of 71, 68, 73 to finish with a 4-under-par total of 212. He tied with Kyle Mueller (71-70-71) and Charlie Pilon (69-73-70). Kansas won the team title with an 11-under par total of 853, 21 strokes better than runner-up Purdue.
The Toreros finished 11th in the team standings with a three-round total of 917 (306-302-309). Rounding out scoring for the Toreros was Tyler Gulliksen (tie-46th at 231, 78-78-75), Daniel Lopez (62nd at 237, 80-74-83), Nathan Zhao (63rd at 239, 77-84-78) and Yash Majmudar (69th at 256, 80-82-94).
Next Tournament: USD Golf co-hosts Lamkin San Diego Classic, March 12-13, San Diego Country Club in Chula Vista.
It was a tough weekend at Fowler Park for USD Baseball, which lost three of four games against No. 17 Indiana. As a result, San Diego, which entered the weekend ranked 13th, fell out of the Collegiate Baseball Top 30 weekly poll.
Indiana won the opener 10-4 on Friday, the teams split a doubleheader Saturday with each winning by a 6-5 score and Indiana took Sunday's finale, 8-4. USD's season record is now 8-5.
On Friday, USD collected eight hits, led by Tora Otsuka's 3-for-4 performance. He scored two runs, too. Paul Richan got the start and went 4.2 innings, allowing nine hits, five earned runs and striking out five.
Saturday, despite the split, was a big day for USD's Jay Schuyler. He went 7-for-10 in the two games with three RBI, a triple and a home run. Schuyler, Adam Kerner and Brhet Bewley each had three hits and Paul Kunst and Shane McGuire had two in USD's early-game win. Chris Murphy pitched six innings and struck out seven to earn the victory. Louie Crow pitched the ninth for his second save of the season. In the nightcap, Indiana scored two runs in the ninth inning to hold off the Toreros. Schuyler had a triple and homer in this game and Jeff Houghtby went 3-for-4 with two runs scored and two RBI with a home run. Nick Sprengel went five innings and struck out nine Hoosiers.
In Sunday's finale, the Hoosiers scored three runs in the third and sixth innings, and added two insurance runs in the seventh. Four Toreros collected two hits: Paul Kunst (2-5, 1 run), Brhet Bewley (2-4, 1 RBI), Daniel Gardner (2-5, 1 run) and Adam Kerner (2-3, 1 run). Seven different Torero pitchers saw action with starter Nate Walker (0-1) getting the loss after surrendering six hits and three runs through 2.1 innings.
Next Games: USD Baseball at Houston (March 9-11): Friday and Saturday games at 4:30 p.m.; Sunday's game at 11 a.m.; USD hosts San Diego State, March 13, 6 p.m., Fowler Park.
The USD Softball team hosted the San Diego Classic at the USD Softball Complex last weekend, posting a 2-3 mark with wins against Colorado State and Cal State Northridge and losses to Long Beach State, No. 3-ranked UCLA and Oregon State.
Delaney Heller was named WCC Pitcher of the Week for her standout play at the San Diego Classic. Heller pitched in all five games and earned a 2-1 record. She held opponents to a .231 batting average on the weekend with a 2.37 ERA. She threw a complete game in a 7-2 win against Colorado State. Heller held opponents to 10 runs — seven earned — on 18 hits, eight walks and 14 strikeouts in 20.2 innings.
Long Beach State's Cielo Meza tossed a one-hit, 2-0 shutout against USD on March 1. Hannah Gilliland had the lone hit for the Toreros. In Friday's win over Colorado State, Taylor Spence had three hits while Gilliland, Sara Silveyra and Shelbi Evans each had two hits and combined for four RBI. On Saturday, the Toreros lost 8-3 to UCLA. Silveyra had three hits and an RBI and Kailey Hill had two hits and an RBI. UCLA had a five-run second inning. On Sunday, USD played a doubleheader, losing 5-1 to Oregon State early — Hill had two of USD's seven hits in the loss — and then Emili Olague's pinch-hit walkoff single lifted the Toreros to a 3-2, nine-inning win over Northridge.
Next Games: USD Softball at Arizona Wildcat Invitational, Tucson (March 9-11): USD vs. South Dakota, Friday, 10 a.m.; USD vs. Arizona, Friday, 5 p.m.; USD vs. South Dakota, Saturday, 8 a.m.; USD vs. South Carolina Upstate, Saturday, 10 a.m.; USD vs. Wisconsin, Sunday, 10 a.m.
August Holmgren earned a singles victory against a top-10 opponent but San Diego fell to No. 11 USC, 6-1, on March 1 at the La Jolla Beach and Tennis Club.
Holmgren was the top highlight for the No. 36 Toreros (4-4) with a 4-6, 7-6 (8), 1-0 (10-3) victory against the Trojans' Brandon Holt who is ranked eighth in the nation. Holmgren has won five consecutive singles matches.
Gui Osorio and Nico Borter earned a top-25 win in doubles play, defeating USC's Brandon Holt and Riley Smith, 6-3, despite USC winning the doubles point. The duo improved to 7-2 in dual matches and 9-2 overall this year.
The top-25 victories were impressive but the Toreros were unable to sustain the success throughout its lineup to keep pace with a talented Trojans team.
Next Match: USD Men's Tennis hosts Gonzaga, Sunday, noon, Santaluz Club.
Carolin Nonnenmacher and Maria-Paula Torres' singles wins were not enough to secure a win for the Toreros in their West Coast Conference opener against Santa Clara, 4-2.

Santa Clara earned the first point of the day during doubles play with wins in the top two spots. The Toreros took their first point on Nonnenmacher's win, 6-1, 6-1 and Torres earned San Diego's final point, winning, 7-5, 6-0.
Next Matches: USD Women's Tennis hosts Boston University, Thursday, 1:30 p.m., Skip and Cindy Hogan Tennis Center at USD; USD hosts St. Mary's, Sunday, 11 a.m., Hogan Tennis Center.
Four San Diego swimmers will compete at the College Swimming and Diving Coaches Association of America National Invitational at Navy in Annapolis, Maryland, this weekend.
Mackenna Briggs, Alex Hubel, Kailyn Evans and Danielle Taylor will compete in relays and individual events at the competition. The quartet excelled in the relay events at the Mountain Pacific Sports Federation Championships Feb. 14-17. The team set program records in 200 yard medley relay (1:41.27), the 800 freestyle relay (7:15.47) and the 400 freestyle relay (3:22.26).
The meet will consist of swimmers from 49 teams who met NCAA Championship time standards but did not receive an invitation to that national meet.
The USD women's track team opens its 2018 season this Friday at the Occidental College Distance Carnival.
"Our team continues to build momentum as we have had three consistent years of knocking on the door at a regional qualifier in the endurance events," said USD Head Coach Will Guarino. "This year we have the hunger to continue the momentum and have a breakthrough."
The USD men's rowing team will host a meet with Gonzaga, Loyola Marymount, Santa Clara and UC San Diego on March 11-12. This is the final race tune-up for the upcoming San Diego Crew Classic on March 24-25 at Mission Bay.
For all USD Athletics news, scores and information, visit the website and follow the Toreros on social media platforms: Facebook, Twitter and Instagram.