Women's Basketball Plays WCC Tournament Semifinal Monday; BYU tops USD Men's Basketball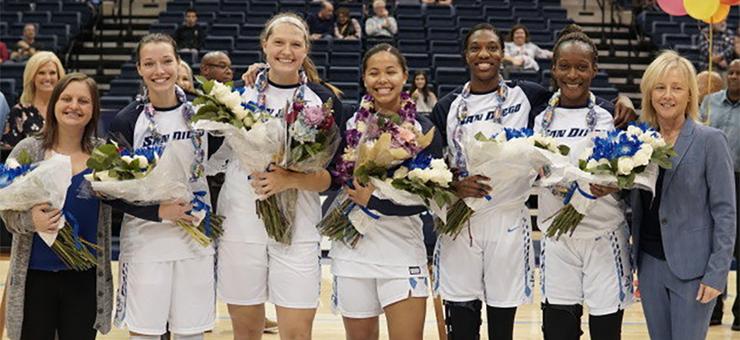 The USD women's basketball team arrived in Las Vegas last week for the West Coast Conference Tournament needing three victories to secure an NCAA Tournament berth. Should that happen, it would be the first time a Torero women's basketball team has won the WCC Tournament and qualified for the NCAA Tournament since 2008.
On Monday, March 5, the No. 6-seeded Toreros (16-14) can take a major step forward in their quest when they face No. 7 Pacific (15-16) in a 2 p.m. semifinal at The Orleans Arena in Las Vegas. The winner will play in the 1 p.m. title game on Tuesday against either top-seeded Gonzaga or No. 5 seed San Francisco, who'll play at noon Monday in the other semifinal. The women's WCC championship game will be broadcast on ESPNU.
USD reached the semifinal by defeating BYU, 61-56, on March 1 and has been awaiting Monday's game ever since. Meanwhile, Pacific played two games to reach the semifinal. Pacific defeated Portland 85-60 on Thursday and then upset second-seeded Saint Mary's, 77-73, on Friday.
USD and Pacific met twice in the regular season and the Tigers swept the series, defeating USD on its home court 81-68 on Jan. 11 and then 62-60 in Stockton on Feb. 15.
Each game in the conference tournament is an elimination game and Women's Basketball Coach Cindy Fisher is counting on the seniors on her roster — including captains Aubrey Ward-El and Maya Hood — who know there is plenty to play for Monday and beyond.
"With the seniors, this is their shot, the last one for them in their college basketball career," Fisher said. "At this point, you ride your seniors and they'll take you as far as you want to go. All of our seniors bring something different and all of them have played a huge role in our success."
Ward-El, Hood, Sydney Williams, Alexandria Young and Jamie Kissinger are the seniors, although Hood is actually a graduate student who is playing her sixth and final year as she was granted an NCAA medical redshirt prior to this season. Besides the seniors playing their last college season, the Toreros are ecstatic for other players getting significant minutes and contributing mightily in big games.
Two Toreros in this role are Caroline Buhr, a redshirt junior forward, who led USD with 15 points in Thursday's win over BYU and Myah Pace, a freshman guard, had six points and six assists against BYU. Pace was selected to the All-WCC Freshman Team last week.
The time for all of the Toreros to shine is now.
The USD Men's Basketball team's time in the West Coast Conference Tournament in Las Vegas lasted one game. While at times competitive — the team rallied from a 17-point deficit in the second half to tie the game — the No. 6 seed Toreros fell to third-seeded BYU, 85-79, in a quarterfinal game March 3 in the Orleans Arena.
Isaiah Pineiro, a first-team All-WCC selection, led the Toreros (18-13) with 21 points, including 10-of-11 free throws, and he grabbed a team-high eight rebounds. He was one of four USD players to score in double figures with Olin Carter III tallying 20, including making 4-of-7 from three-point range. Cameron Neubauer had 13 points and six rebounds before fouling out and Isaiah Wright had 12 points, five rebounds and four assists. BYU's Elijah Bryant led all players with 27 points. Yoeli Childs added 22 and eight rebounds and TJ Haws had 13 points for the Cougars (23-9).
San Diego's biggest lead of the game was 18-10 eight minutes into the first half. BYU tied it and the teams traded the lead a few times. Juwan Gray's free throw made it 31-29 with 5:04 left in the half, which was the last time USD had the lead in the game. Jahshire Hardnett made two free throws for a 33-31 BYU lead with 3:57 left in the first half and the Cougars didn't look back afterward. BYU led 39-35 at halftime.
BYU stretched the lead to 60-43 with 11:42 left when USD outscored the Cougars 28-11, including a 12-0 USD run in which Carter's 3-pointer tied the score at 71 with 3:28 to play. BYU got the lead back up to six with 37 seconds left. USD got it as close as three, 81-78, on two free throws by Juwan Gray, with 17 seconds left, but Childs made two free throws and a dunk with two seconds left to clinch the win for BYU.
— Ryan T. Blystone