Women's Basketball Standout Christine Enger '93 Enters WCC Hall of Honor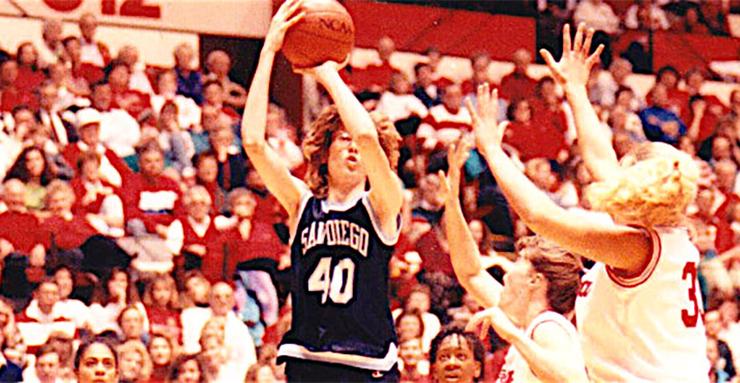 When she lived in England and played professional basketball for four years, Christine — call her Chris — Enger drove an older model Mini Cooper.
For some reason, a group of English schoolkids thought it was compelling stuff watching a 6-foot-4 woman fold herself into the driver's seat of said Mini Cooper.
The 6-4 woman understood completely.
"You could see the kids pressing up against the window (of the bus),'' Enger recalled. "Driving a Mini was comical for the kids, seeing a 6-4 woman getting into the car.''
This was in the mid-1990's, when Enger, a 1993 graduate of the University of San Diego with a degree in English, played professionally for a team in Ipswich. Armed with a teaching credential, also from USD, Enger in her free time taught the basics of basketball to schoolchildren, many of whom had no previous exposure to the game.
"There were schools I went into that didn't have a hoop,'' she said. "I would say that was a huge piece of my experience (in England) and it helped mature me as a teacher.''
Enger is a teacher still, going on 18 years teaching Language Arts (literature, spelling, grammar, writing) at Thompson Middle School in Murietta, Calif. She found her calling early and is still going strong at 46.
"It was my first job and I haven't left,'' Enger said. "I teach students that are working to become proficient in Language Arts. I see my role as a motivator. I take kids who may not believe in themselves and encourage them to be proficient readers. It's a good gig because I get to see them grow. By the end of the year most of them improve. They come in thinking they can't and they leave thinking they can.''
Entering the WCC Hall of Honor
Enger was pretty good at this basketball thing, too. In her time at USD from 1989-93 she was a three-time All-WCC selection, was twice named to the WCC's All-Academic team, and as a senior led the Toreros to their first NCAA Women's Tournament berth on the strength of her ability to rebound and block shots. She was a 2001 inductee into USD's Chet and Marguerite Pagni Family Athletic Hall of Fame.
On Saturday, March 3, Enger will be entering the West Coast Conference's Hall of Honor, in conjunction with the conference basketball tournament at The Orleans in Las Vegas.
Enger's fellow WCC Hall of Honor inductees are: BYU's Miles Batty (Cross Country/Track), Gonzaga's Ronny Turiaf (Men's Basketball), Loyola Marymount's Brian Quinn (Administrator), Pacific's Ken Earle (Golf), Pepperdine's Randy Wolf (Baseball), Portland's Nicole Karr (Cross Country/Track), Saint Mary's Mandy Bible (Volleyball), San Francisco's Sue Enos O'Meara (Women's Basketball/Volleyball) and Santa Clara's Cameron Rast (Men's Soccer).
"Shock, and very honored and grateful that USD would consider me,'' she said. "To be honest, I didn't know there was a Hall of Honor in the WCC. It's a great surprise. I'm thrilled and shocked. I'm a little speechless. I'm looking forward to it. I have friends and family coming. It should be a lot of fun.''
Sitting at her table with Enger will be her father Chuck, twin brothers Doug and David, her sister-in-law, friends from church and a former teammate. "I'm honored they would take the time and money to come,'' she said.
USD Playing Career
As she reflected on her career at USD, Enger said she is most proud of going to the NCAA Tournament as a senior for the first time in the history of the women's program. In 1992-93, the Toreros finished 16-12 overall, 8-6 in conference and defeated Santa Clara in the WCC Tournament final to earn that coveted NCAA bid. USD lost at Nebraska 81-58 in the first round.
"It was a dream come true winning the conference tournament my senior year and going to play Nebraska in the NCAA Tournament,'' Enger said. "It was a Cloud Nine experience. We played Santa Clara for the conference championship. We lost to them by 20 points the week before. Our coach (Kathy Marpe) changed tactics. We beat them by five points. That's one I'll never forget.''
However, Enger is a little fuzzy on some of her individual superlatives, such as two games in her freshman season of '89-90 when she set still-standing WCC records for blocks in a game (12 vs. Gonzaga) and rebounds in a game (24 vs. Portland).
"I'm terrible at remembering single games,'' she said. "I know the blocked shot was my strength. People had to think twice when they were shooting around me.''
Enger left USD as the school's career leader in rebounding (831) and blocked shots (372) and was third in career scoring (1,187). She also led the nation in blocked shots as a senior with 137, or 4.9 per game. Her career average of 3.88 blocks per game was at the time an NCAA record, since bettered.
"I think USD was a good fit for me,'' she said. "It was a small school and close to home and I was able to have friends and family come to the games.''
Enger lives in San Marcos, with a 45-minute commute to Murrieta and Thompson Middle School. Her stature, literally and figuratively, as a former college and professional basketball player give her credentials with some of her students.
"I share stories with my students. It adds connections because a lot of my students play sports,'' Enger said. "I have a student this year who is playing high-level basketball. He comes in almost every day. Part of teaching is building relationships.''
Regarding her commute from San Marcos to Murrieta, Enger makes it in a Honda Accord. It's not a stretch to imagine some of her students getting a kick out of watching their teacher negotiate her 6-4 frame into the driver's seat.
— John Crumpacker, WCC Columnist