Kroc School Dean Patricia Marquez Receives Rotary District 5340 Pathways to Peace Award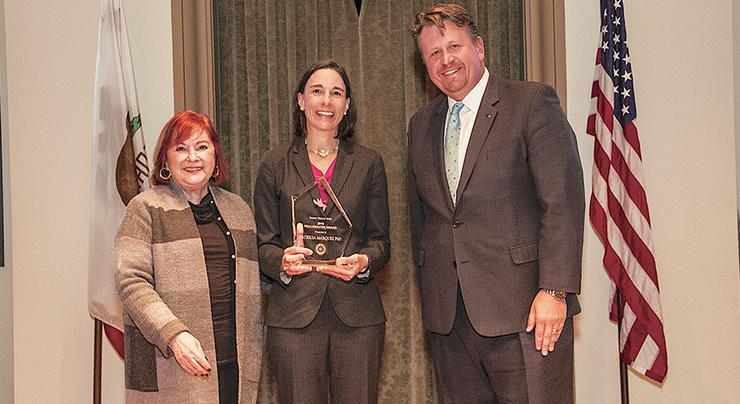 Kroc School of Peace Studies Dean, Patricia Marquez, PhD, was selected as the Rotary District 5340's Pathways to Peace Award winner during its Seventh Annual Peace Forum on Saturday at the University of San Diego.
Marquez, who has been at USD since 2007 as a business management professor, director of the Center for Peace and Commerce (CPC) and its Social Innovation Challenge, co-director of the USD Changemaker Hub and, since August 2014, as Kroc School dean, was proud to accept the award on behalf of her school and the university.
"I'm completely honored and humbled by this award, but it is not just for Patricia Marquez, this award is for the Kroc Peace School and for the University of San Diego. This work is not something I do alone," said Marquez, whose honor comes from Rotary District 5340, which represents all members in 64 clubs across San Diego, Imperial and Riverside counties.
In addition to the Pathways to Peace Award, District 5340 Governor Scott Carr, a USD business alumnus, named Marquez as a Paul Harris Fellow, which recognizes individuals who contribute to the Rotary's Foundation of Rotary International.
"Dean Marquez has been an extraordinary guiding force to promote peace, not only here (in San Diego), but across the globe," Carr said. "We salute you and your committment to peace."
Marquez's award on Saturday follows other notable recent honors she's attained, including the 2016 San Diego Business Journal's Women Who Mean Business Award and, in 2017, the San Diego Downtown Breakfast Rotary Club's Peacemaker of the Year Award. Each of these awards validate Marquez's vision with the Kroc School and the importance of peace education as a pathway toward a more peaceful world.
"I am a peacebuilder," she said matter-of-factly. "My mission is to work with you and to work with universities because we need to advance peace education so that we have a peaceful co-existence."
Through the Kroc School, which offers multiple master's degrees, an undergraduate peace minor program and is connected to the Institute for Peace and Justice, the Center for Peace and Commerce and the Trans-Border Institute, Marquez said her school seeks to bring positive peace to the world.
Marquez spoke of four ways in which the Kroc School is activating educating toward positive peace: through teaching, resilience and community trust; focus on innovation with a social purpose, to seek innovation for change; real-time learning through opportunities such as taking students and faculty to places such as Colombia and Rwanda, the 15-year impact of the Women PeaceMakers Program, and connection to the Women Waging Peace Network; and generating knowledge and sharing it with others, such as the Building Trust project, which brings local faith leaders and San Diego Police Department together to improve community relationships.
Marquez said her hope is for peace education to have a permanent place at the academic table, alongside other schools at a university. The Kroc School of Peace Studies celebrated its 10th anniversary in 2017. When it became a school, it was the lone graduate peace studies graduate school in the nation.
Likely, Marquez sees peace as Carr does when the latter said, "Peace is the single most important driver of prosperity in the world today."
Rotary Peace Forum at USD
While Kroc School Dean Patricia Marquez was feted with the Pathways to Peace Award, she was not the only USD connection to the Rotary Peace Forum event.
Assistant Provost of the Institute of College Initiatives and TRiO, Dr. Cynthia Villis, was the Peace Forum's chairperson. Villis has been a Rotarian since 1997.
Two of the day's first speakers were employees of the Kroc School's Institute for Peace and Justice, Jennifer Freeman, who is associate director of the IPJ and in charge of the Women PeaceMakers Program; and Jennifer Bradshaw, an IPJ Program Officer for the Women PeaceMakers Program and current Rotary Peace Fellow.
Freeman spoke on Defying Extremism, an ongoing IPJ initiative that explores gendered and alternative responses to violent extremism. Bradshaw spoke on a peacebuilding approach of bridging theory with practice and offered three findings through her own work: it takes multiple methodologies to end cycles of violence; bridging practice with theory is critical to building lasting peace; and local peacebuilders are vital and key experts in peacebuilding.
Two current Kroc Master's in Peace and Justice Studies students, Paloma Wiethorn Kochan and Jane Wanjiru Kinyua, spoke about their respective experiences in peacebuilding. Kochan, a Rotary Peace Scholar and a Grillo-Marxuach Scholar from Brazil, sought the master's degree at USD to help with her goal of strengthening her skills to work towards women's rights and gender equality in Latin America. Kinyua, a Rotary District 5340 Global Grant Peace Scholar and founding member of Children Peace Initiative Kenya, is studying at USD in hopes of deepening her understanding of peacebuilding dynamics in order to improve programs offered in her organization in Kenya.
Another peace forum speaker was Retired Marine Corps Major Derek Abbey, a 2011 USD master's alumnus, current PhD candidate in USD's School of Leadership and Education Sciences and USD's former Veteran Services Coordinator and director of the Military and Veterans Program. Currently the West Region Director of the Travis Manion Foundation, Abbey is an active member of the BentProp Project. He spoke to the audience about the BentProp Project, an organization that helps search for American service members still missing from previous wars.
— Ryan T. Blystone