Torero Athletics: Basketball Teams Top BYU, Gonzaga Awaits; Spring Sports Roundup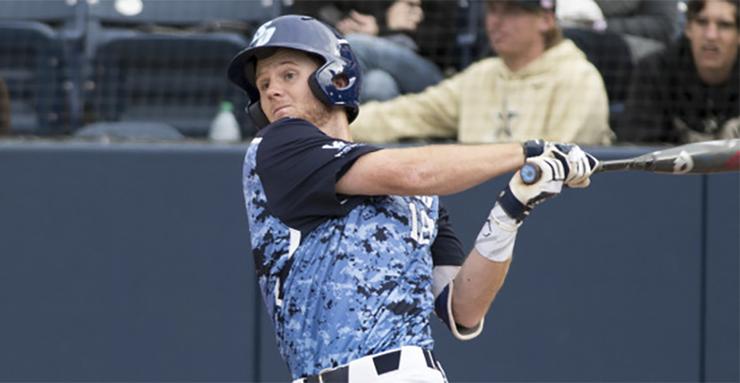 The University of San Diego men and women's basketball teams had similar results in the win-loss column last Thursday and Saturday. For both teams, though the Saturday wins, both coming against BYU, are hopefully momentum-inducing as West Coast Conference regular-season play concludes this week.
Both teams lost to Pacific on Feb. 15, only to rebound with big afternoon wins Feb. 17 over BYU, which is in third place in both the WCC men and women's basketball standings. Both USD teams are 8-8 in WCC play. The men are 17-11 overall and the women are 15-12.
It doesn't get any easier, either. WCC-leading Gonzaga is up next for both teams this Thursday, with both being 6 p.m. games. The men's game against No. 6 Gonzaga is at Jenny Craig Pavilion (on ESPN2), while the women's matchup is in Spokane, Wash.
Men's recap: Against BYU, four San Diego players scored in double figures, led by Isaiah Pineiro's 20 points, enroute to the Toreros' convincing victory against BYU, 75-62. Cameron Neubauer (14), Olin Carter III (13) and Isaiah Wright (11) finished in double digits for USD, which shot 50 percent from the field. The Toreros did damage from three-point range, connecting on nine of 21 attempts. … Against Pacific, San Diego cut a 17-point second-half deficit to five points with 2:13 to play but could not complete the comeback in a 67-55 loss. The Toreros jumped out to an early 18-10 lead but fell into a scoring slump during the middle part. The Tigers capitalized and shot 40.8 percent from the field, including 50 percent (8-for-16) from three-point range. USD's Carter finished with 16 points and Neubauer had 15.
Women's recap: Against BYU, three San Diego players scored in double figures, led by Aubrey Ward-El's 16 points, as the Toreros defeated host BYU, 66-60. Maya Hood scored 12 points and Sydney Williams added 10. Myah Pace grabbed a team-high nine rebounds and dished out four assists. With the win, the Toreros won the season series against BYU. … Against Pacific, despite a 20-4 run in the third quarter and 17 points from Hood and Ward-El, the Toreros were unable to finish a comeback in a 62-60 defeat.
Next Games: USD men's basketball hosts Gonzaga, Thursday, 6 p.m., Jenny Craig Pavilion; USD men at San Francisco, Saturday, 7 p.m. USD women's basketball at Gonzaga, Thursday, 6 p.m.; USD women host San Francisco, Saturday, 2 p.m., JCP.
There were ups and downs, highs and lows, strong pitching efforts, extra innings and a walkoff hit. In other words, there was a little bit of everything in the 2018 season debut weekend for USD baseball. The Toreros went 2-2, splitting two games each with Cal and Cincinnati.
Weather issues delayed Cincinnati's travel to San Diego, so the Toreros opened the season Feb. 16 against Cal. Despite a 6-1 USD loss, starting pitcher Paul Richan had a strong effort. Richen held the Bears to one unearned run on five hits and no walks with 12 strikeouts in 6.2 innings. After allowing a single on the first pitch of the game, Richen struck out the next six batters. Cal got to USD's bullpen with a five-run eighth inning. USD's lone run was an RBI single by Jay Schuyler in the bottom of the eighth. On Monday, Richen was named the WCC Pitcher of the Week.
On Saturday, it was USD's turn for a big inning. A seven-run seventh inning enabled USD to top Cal, 11-8. Schuyler had a two-run double, Shane McGuire and Jeff Houghtby had RBI singles, Adam Kerner was hit by a pitch to bring in a run, Tora Otsuka walked with the bases loaded and Brhet Bewley's fielder's choice scored the inning's final run. Chris Murphy went five innings, striking out nine while giving up five runs on six hits and four walks. Reliever Gabriel Ponce pitched two innings for the win.
Sunday was a doubleheader against Cincinnati. USD lost the opener in 10 innings, 7-4, but finished the day with a walk-off 4-3 win on Bewley's RBI single, coming soon after Schuyler hit his second home run of the game to tie the score at 3. Pitcher Nate Walker started the second game, and combined with relievers Nicola Mislinski, Nigel Ward and Travis Kuhn to keep the Bearcats in check.
Next Games: USD baseball at San Diego State, Tuesday, 6 p.m., Tony Gwynn Stadium; USD hosts Michigan, Friday, 6 p.m., Fowler Park; USD hosts Grand Canyon, Saturday, 6 p.m., Fowler Park; USD hosts Arkansas, Sunday, 10 a.m., Fowler Park; USD hosts Arizona, Sunday, 2 p.m., Fowler Park.
After a 5-1 record opening weekend at home, the USD softball team played competitively in the Littlewood Classic in Tempe, Ariz., Feb. 16-18, but won only one of four games.
The lone victory was an 11-3 triumph over North Dakota, a pair of one-run losses, 3-2 to Illinois State and 2-1 against Texas State were tough setbacks, and two losses were a 4-0 defeat in a second game against Illinois State and a 7-0 loss to No. 18 Arizona State.
The 4-0 loss to Illinois State on Feb. 16 was the result of a pair of two-run innings, the fourth and fifth for the Redbirds. Pitcher Hannah Boos got the loss in 4.2 innings of work, six hits and all four runs (three earned). USD's six hits in the game were from Hannah Gilliland (3 for 3), Madison Casiano (2 for 3) and Shelbi Evans.
A Saturday split for USD began by defeating North Dakota. Sara Silveyra and Gilliland each had a double and two RBI among USD's 10 hits. Sarah Stone added a two-run triple. Delaney Heller went 3.2 innings for the win. In the second game of the day, Illinois State edged USD by scoring all three of its runs in the bottom of the seventh inning. USD's two runs came on a solo home run by Kailey Hill and an RBI double by Katie Vretzos. USD pitcher Halle Kyler pitched a complete game in the loss.
Sunday was USD against Texas State and then No. 18 Arizona State. In the early game, Kyler (3-2) again pitched a complete game, but USD's lone run against Texas State came on a Katie Vretzos' RBI single. Evans had two hits. In the second game, the Top 25-ranked Sun Devils scored three runs in the first inning, added four more in the second inning and limited USD's offense to only three hits. Lauren Kane's double was USD's only extra-base hit. USD's Boos was roughed up for 7 runs on five hits in 1.2 innings.
Next Games: USD Softball at Gaucho Classic, UC Santa Barbara — USD vs. Dayton (DH), Friday, 12/2 p.m.; USD vs. Dayton, Saturday, 12 p.m.; USD at UC Santa Barbara, Saturday, 2 p.m.; USD at UC Santa Barbara, Sunday, 10 a.m.
The women's swim and dive team set four school records — three relays and one individual mark — and finished seventh in the team standings at the Mountain Pacific Sports Federation Championship meet, held Feb. 14-17 at East Los Angeles College.
The school record marks happened on the first day and last day of the meet.
On Feb. 14, the 200-yard medley relay team of Danielle Taylor, Kailyn Evans, Alex Hubel and Mackenna Briggs finished fourth in a time of 1 minute, 41.27 seconds to set a USD record. The same team finished second in the 800 freestyle relay in 7:15.47. Furthermore, Taylor's leadoff time of 1:47.51 was a school record. Then on Feb. 17, the 400 free relay team, comprised of the same four swimmers, swam in a USD record time of 3:22.26, besting the previous mark of 3:23.47, which was set in 2011.
In the team standings, Hawaii won the MPSF title with a dominating 848 points. USD tallied 280.5 total team points over the four days.
The USD women's tennis team won its second straight match, this time a 4-0 victory over Cal Poly at USD's Skip and Cindy Hogan Tennis Center on Feb. 18.
The Toreros (3-4) won the doubles point on the strength of match wins by Nicole Anderson and Daniela Morales and the team of Gemma Garcia and Carolin Nonnemacher. In singles play, Morales, Anderson and Garcia picked up victories to conclude the shutout nonconference victory.
The Toreros await the beginning of West Coast Conference play, which starts March 2 against Santa Clara.
Next Matches: USD women's tennis hosts Santa Clara, March 2, 1:30 p.m., Skip and Cindy Hogan Tennis Center; USD hosts Boston University, March 8, 1:30 p.m., Skip and Cindy Hogan TC.
The Torero men's tennis team split a pair of nonconference matches over the past weekend, falling 4-3 to Arizona State on Feb. 17 and then edging Fresno State by the same score on Sunday. Both matches took place at the Skip and Cindy Hogan Tennis Center.
Against Arizona State, USD secured the doubles point on wins by the team of Gui Osorio and Nico Borter and the team of Alexandros Araouzos and Pratt Keerasuntonpong. Moving to singles play, freshman August Holmgren won at the No. 2 spot and Borter won in tiebreaker fashion. The match concluded with a battle at No. 1 where Arizona State's Michael Geerts topped Osorio 7-5, 3-6, 6-0 to gain the deciding point.
The Toreros bounced back to defeat Fresno State. All four USD points came in singles play. Osorio, Holmgren, Joel Gamerov and Borter each won to improve the team's record to 4-2 this season.
Next Matches: USD men's tennis hosts San Diego State, Friday, 2 p.m., Skip and Cindy Hogan Tennis Center; USD vs. USC, March 1, 2 p.m., La Jolla Beach and Tennis Club.
Head Coach Chris Riley's debut took place Feb. 12-13 on the USD Golf team's home course, The Farms in Rancho Santa Fe. The Farms Invitational: Superior Hydration by BodyArmor proved to be very good to a pair of West Coast Conference foes as University of San Francisco won the team title and Santa Clara tied with UCLA for second place. USD finished sixth out of 11 teams in the two-day, 54-hole event.
Top golfers for USD were Daniel Lopez and Tyler Gulliksen, both of whom finished in the top 20 individually. Lopez tied for 12th with a three-round score of 219 (70-78-71) on the par-72 6,903-yard course. Gulliksen shot 220 (72-74-74), good for a tie for 17th. Dalton Hankamer was the next Torero at 37th place in 228.
Next Tournament: USD Golf at the NIT, Feb. 26-27, Tucson National Country Club, all day.
Men's Rowing and Women's Rowing
The USD men's team will begin its spring season this Saturday at 7 a.m. when it competes in the City Championships at Mission Bay. Meanwhile, the women's team, which competed in a scrimmage last Saturday with Orange Coast College, San Diego State and UC San Diego, does not officially compete this spring season until the annual San Diego Crew Classic, taking place March 24-25 at Mission Bay. When the women's team competes in the Crew Classic, it will mark the debut of new USD head coach and former Olympian, Sarah Trowbridge.
For all USD Athletics news, scores and information, visit the website and follow the Toreros on social media platforms: Facebook, Twitter and Instagram.